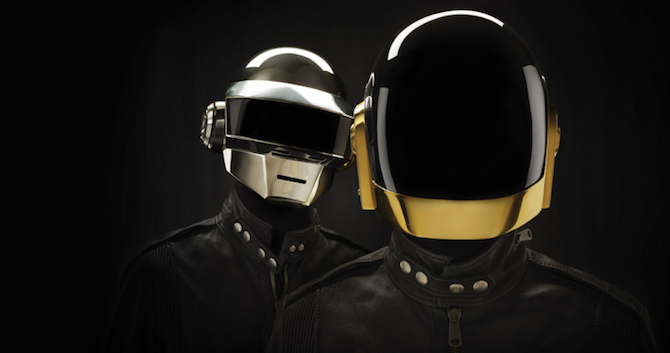 Anyone fortunate enough to be watching US telly on Saturday night may have done a double take when they were suddenly exposed to a flirty little tease from dance music legends Daft Punk. A 15 second clip, rolled out during the ad break for Saturday Night Live, showcased a snippet of music from their as-yet-untitled fourth album, due for release in the spring. The music was accompanied by a new iteration on the Daft Punk logo, displayed in spangly Disco-silver, which spun in a decidedly groovy fashion before the 'Punk's iconic robot helmets appeared. That was it.
 ☛More Music Stuff: Skrillex Accidentally Sets His Hair On Fire From The Candles On His Birthday Cake
As America went back to enjoying fair-to-mediocre sketch-based comedy, the internet burst into life as people furiously dissected the agonisingly-short clip. The tune that was played was pleasant enough: 70s disco with a jangly guitar hook and a pleasingly thumpy beat to back it up. There was speculation that Nile Rodgers, the frontman for Chic (Google them, they did a ton of stuff way back when) was playing guitar on the track. That would be a logical assessment, as Nile confirmed last year that he was working with the French duo and the 15 seconds that we heard at the weekend could easily pass for classic Chic. Rumours (and that's all they are) abound that the track in question was called No End and will drop on March 13 before the album follows shortly thereafter. Exciting!
 ☛ Also Exciting: Submotion Orchestra Interview And Live Session
Due to the onslaught of hyper-sensitive copyright protection in the wake of the clip, you may have difficulty finding the original advert but lucky for us, the excellent Daft Punk fansite The Daft House has managed to put up a studio-quality extended loop of the audio as well as a nifty remix (this was all done within hours of the ad being broadcast, proof yet again that the Internet is both amazing and terrifying in its ability to react to stuff lightning-quick). We've got the video below too, but there's every chance it might get shut down by the time you come to read this so we thought it prudent to add the link in above as that its likely to remain there for all of time.
Check it out and dance around your bedroom. We here at Sick Chirpse are gagging to hear more as it's been eight years since the last original studio album from these guys and we have missed them pretty goddamn badly. Welcome back, mes amis!
 ☛ Additional Dance Music Goodness: FABRICLIVE 67 Review
[yframe url='http://www.youtube.com/watch?v=AN1ItiEDBpw']