A German IT contractor named Pedro entered into an exchange with Amazon that ended in most bizarre fashion – with a 10 inch dildo in his shopping basket whilst logged into a work computer. Oops.
It all began when Pedro ordered a specialised art textbook for an extracurricular class to his current address in Ireland. Pedro had spent a long time tracking down the specific edition of said textbook in German and was pretty upset to find that when he received it, it was the wrong edition.
As any normal person would do, he complained to Amazon about this and they offered to send him out the correct version. Unfortunately though, a few days later they regretfully informed him that they didn't have that version in stock, and that he would have to return his copy for a full refund.
Understandably, Pedro was pretty pissed off about this and so decided to leave a negative review about his experience with the company. He thought that was that and went on with his life.
Only that wasn't that, and next time he opened Amazon there was a huge 10.25 inch dildo in his shopping basket. Specifically, The Hulk 10.25-inch Huge Dong Black.
Featured Image VIA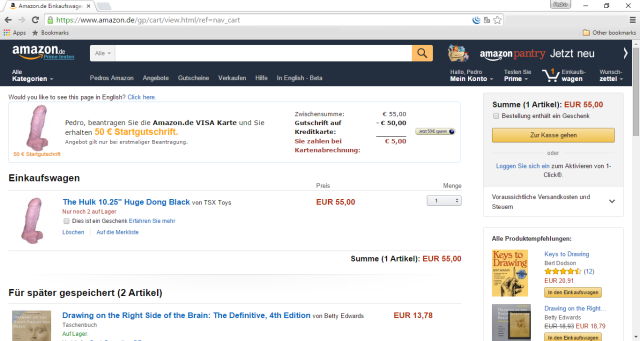 Image VIA 
Pedro had the following to say about the incident:
If my best friend did it to me while I wasn't watching, of course I would find it funny.

The problem is, I was at the office, in an open space, with people behind me. A guy and two girls were sitting by me when I opened up Amazon and they saw the contents of my shopping basket.
Awkward. Pedro contacted Amazon to find out what was going on, and after being passed around for a bit it was eventually determined that a customer services rep had done it, however all the company did was apologise and give him a $100 voucher. It didn't seem like anyone was fired or held accountable though as when Pedro tried to ask further questions regarding why it had happened they just ignored him. Ouch.
So the moral of the story really is that Amazon employees can see if you leave them bad feedback and could retaliate like this if you do. So you probably shouldn't unless you want a dildo appearing in your shopping basket. Maybe if you leave good feedback you might get a PS4 though or something.
In any case, who would want to work at Amazon anyway – have you seen what the inside of a warehouse looks like?