Cristiano Ronaldo is one of the world's most famous footballers and rightly so, having won almost every honour in the game and smashing almost every record in it too.
Featured Image VIA
Therefore, it's probably no real surprise that the area of Portugal where he grew up – Madeira – is absolutely crazy for him and they've today decided to honour him in perhaps the most awesome way possible by naming their airport after him. Ronaldo should be absolutely stoked for this and no doubt he is but he's probably a little annoyed about the statue of him that they decided to put up to commemorate the occasion.
This really is one of the worst likenesses of anyone I've ever seen, no joke: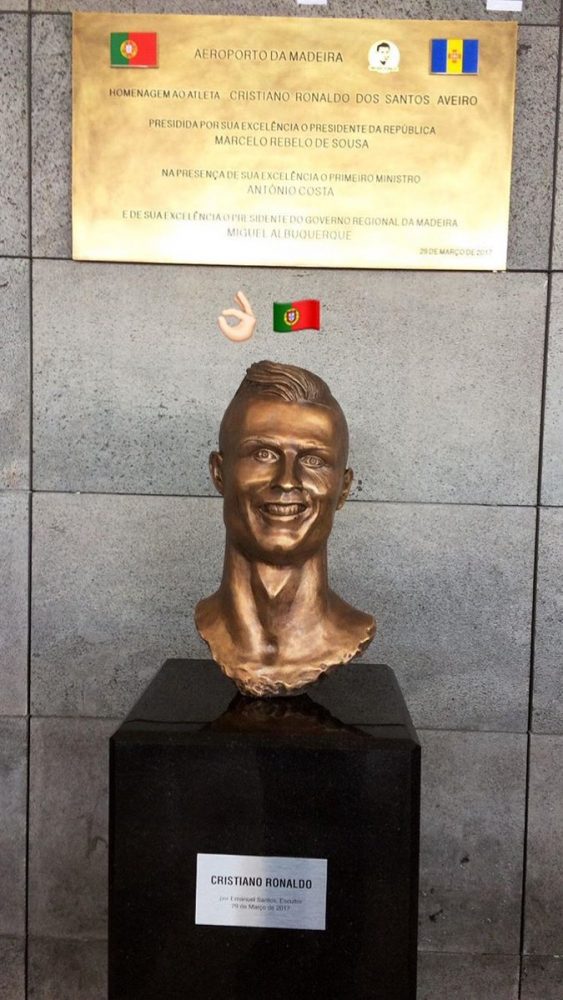 I mean OK maybe, it kinda looks like a really ugly comic book version of him, but if I was going to be immortalised forever at the airport of my hometown, I would want to look a bit better than that. Just saying.
Whoever OK'ed that for Ronaldo – I've gotta assume it wasn't him – is probably getting fired in the morning becuase he looks kinda like a cross between John Arne Riise, Niall Quinn and Paul Konchesky rather than the Portuguese stud himself. Truly shocking.
For more Cristiano Ronaldo, check out what he looked like when he was a kid. He wasn't always such a looker – probably still looked better than that statue though.