Cristiano Ronaldo was substituted in the 82nd minute after scoring a brace in his side's 4-0 win against Parma on Saturday.
Featured Image VIA
Instead of relaxing on the bench, he decided to do ab and weight training exercises on the sideline in preparation for Juventus's match on Tuesday: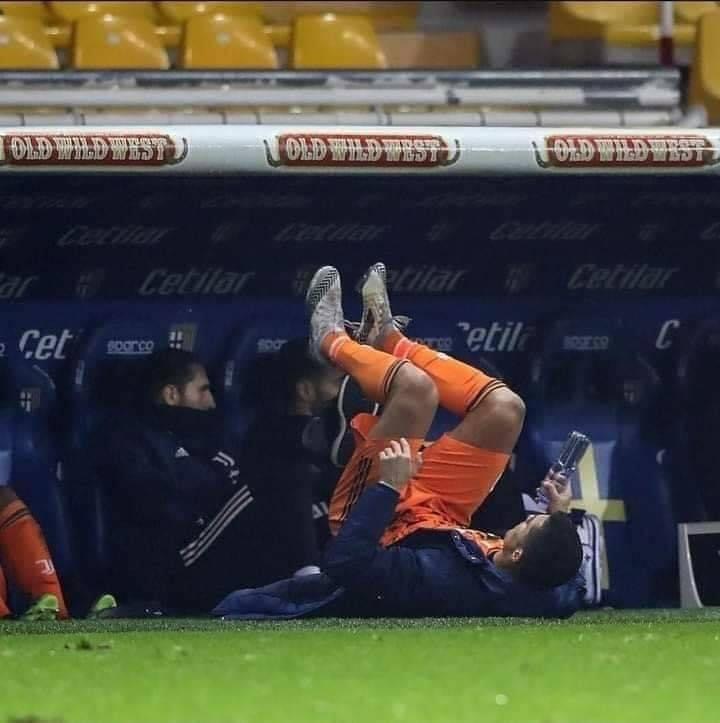 And that's why the guy is an elite level athlete of the highest order imaginable. Does Ronaldo love the attention? Does he know everyone is going to be talking about this after the game? Probably, but I guarantee you even if there was no one watching, Ronaldo would be busting out sit ups and pistol squats like his life depended on it. That's just the type of guy he is.
Some people are giving him stick over it:
He couldn't watch his team mates for 8 minutes? He's got all day to do ab training

— Mick (@michaeltodd9) December 21, 2020
show off if you ask me

— Designated Asshole (@Rutambi_) December 21, 2020
Just so people talk about him when he still not on the pitch. Just watch your team for 8 minutes ffs

— Steven Jones (@steviej1989) December 21, 2020
Look at me syndrome 👍

— db (@Pepeb72) December 21, 2020
Absolute bellend

— MoggWarts (@DoubleBarons) December 21, 2020
Tosser

— BB (@bb_th21) December 21, 2020
I guess it is pretty funny that he couldn't be bothered to watch the rest of the game, but that's probably because he's gonna catch the highlights later while doing his nightly lunges.
At the end of the day, it's this sort of behaviour that reminds you Ronaldo is on another level. Just an unbelievable mentality that no one else in the game can touch. 35 years old! Legend.
https://www.youtube.com/watch?v=vUyXa1SOeXQ
To meet the model who 'fulfilled her dream' of having sex with Cristiano Ronaldo, click HERE. Good for her!