Even if you don't particularly like Cristiano Ronaldo, you can't really deny that he's completely sick at football and you can't really deny that he's a completely safe guy as well, like last week when he let some kid who had snuck into his hotel room go without calling the police. 
This story is completely awesome though and really cements his reputation as a good guy. Recently when he was asked why he didn't have any tattoos, he gave this answer:
'I don't have tattoos because I donate blood very often.'
Wow – that's probably the best answer to that question ever. Ronaldo also revealed that he's donated bone marrow too in order to help a teammate's son. Next time you think Ronaldo is being a prick remember these stories, yeah?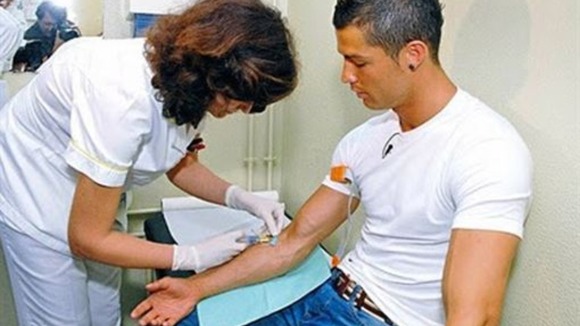 'It was the time when Carlos [Martins] was with us on the national team. He told us about the problem with his son and we, the players, showed great unity to help him and his son because we knew it was a very complicated situation.

[Donating bone marrow] is something a lot of people think is a difficult thing to do but it's nothing more than drawing blood and doesn't hurt.'
What a guy.