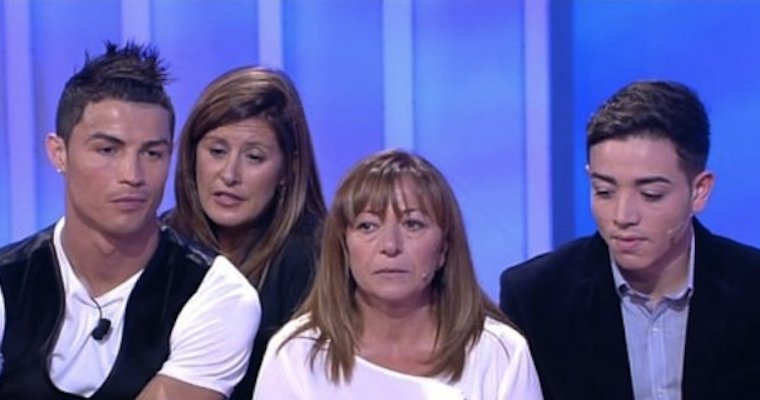 Cristiano Ronaldo is a stone cold sickhead, there is absolutely no denying that. Whether you love the guy or hate the guy, there is just absolutely no denying that he is very good at football. Almost as good as Emile Heskey. Anyway, because he's so good at football I doubted if he could really be that good at anything else – except maybe banging chicks – but it turns out that in Italy he's also actually really good at family therapy. Or whatever you call the job that people like Dr Phil, Jeremy Kyle, Oprah Winfrey, Dr Tom Sands, Jerry Springer, Steve Wilkos and all those idiots make their living from doing.
☛ More: Jeremy Kyle Special – How Could My Boyfriend Destroy His Own Face? 
Apparently, as soon as Real Madrid had finished losing to Borussia Dortmund last week in the Champions League, Cristiano Ronaldo boarded a flight to Italy to go and film this show 'C'è posta per te' ('I have a letter for you') over in Rome and it was screened in Italy over the weekend. Frankly it's just weird, because even though it's in Italian with Spanish subtitles you can figure out what's going on and it seems like the TV Show has enlisted the help of Cristiano Ronaldo to reunite an estranged mother and daughter.
How does Cristiano Ronaldo do this I hear you ask? Or maybe what qualifies Cristiano Ronaldo to be able to do this? Well his qualifications are undoubtedly that he's a superstar footballer and he uses these traits to solve this family's problem (as a side note if you were a family that had real issues, issues so bad that you were forced to go onto TV and seek the advice of somebody like Jeremy Kyle, would you be happy or sad if Cristiano Ronaldo turned up in his place to give his advice on your problem? I mean I'd be stoked to meet Cristiano Ronaldo but would whatever he was saying even be that useful?) by doing a few kick ups and using his phenomenal salary to buy the daughter a shiny new necklace and give her a signed football from her friend Cristiano.
Of course, this immediately solves the problem and the two are back together. Thank you Cristiano! You can see highlights of the show below on YouTube, if anyone wants to help out with a translation leave it in the comments and I'll edit the piece to include it. There's a full 30 minute version of the show below that too, but I wouldn't advise watching that unless you're fluent in Italian/very bored.
☛ More: You Are Heskey's Bitch – Emile Heskey's Unbelievable Start To Life In Australia 
☛ More: Emmanuel Eboue – Funnier Than The Funniest Comedians 
[yframe url='http://www.youtube.com/watch?v=210SE6eQfNc']