As far as crime waves go, this guy probably achieved more in two hours than most criminals achieve in their whole careers. Here's a timeline of his activity, as provided by the kind police of Sunderland:
2.35PM: A man tries to break into a house on Kitchener Street but just damages the door and runs away;
3.45-4PM: Someone breaks into a house on General Graham Street and steals a suitcase, some Lladro porcelain figures and the keys to a Hyundai Getz, the most diverse criminal shopping basket perhaps of all time;
4.05PM: Attempted robbery of a Hylton Post Office and Costcutters on nearby Railway Terrace, where a man approaches the counter with a kitchen knife but leaves empty handed, peeling away in a tiny blue Hyundai Getz-shaped car;
4.15PM: Attempted robbery of William Hill on Hylton Road, same kitchen-knife-'n'-Hyundai MO;
4.30PM: Police find a blue Hyundai Getz, on fire, on the side of Ettrick Grove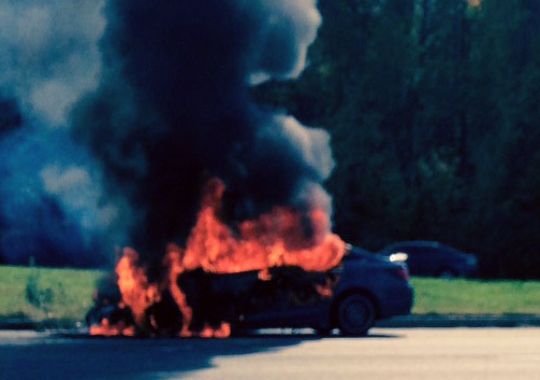 Image VIA
What an absolute go-getter. If you think about what you've managed to achieve in the last two hour period, I doubt it will amount to this guy's efforts; attempting to rob three places, actually succeeding in robbing one place and then setting a car on fire. Setting the car on fire really is the piece de resistance because it seems so pointless after it had only been stolen for about half an hour.
But if you compare that to what I've done in the last two hours – write a couple of articles, make some lunch and have a wank – then there's really no comparison over who the most productive is. If the cops manage to track this guy down – they're still currently looking for him – then they should probably give him a job somewhere as he appears to be more productive than 90% of the workforce, especially judging by these stories from a ghetto McDonald's employee.