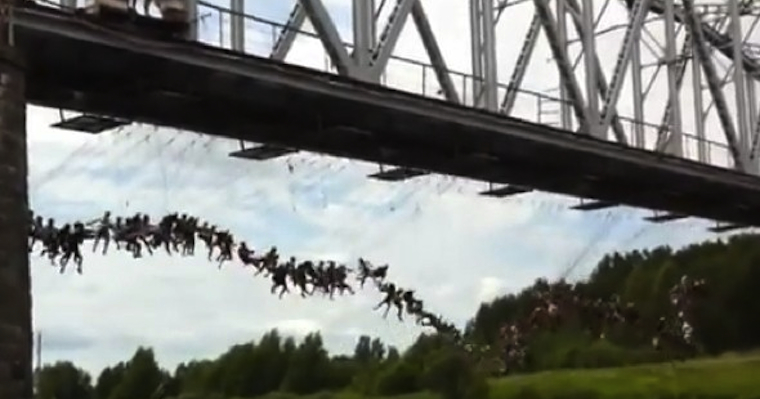 There's something really entertaining about watching 135 people simultaneously bungee jump off a bridge. It's also unsurprising that something like this would happen in Russia. If Sick Chirpse has taught you one thing, it's that Russian brehs are nuts. Since the homemade bungee jump posted last year, those Russians have really upped the ante on crazy shit and extreme sports. This is a country that is generally known for its success in sport so knowing them, they are probably building up their stamina for the Olympics.
The stunt drew crowds of onlookers as 135 fearless flying Russians swung back and forth from their bungee cords. I'm not quite sure how they managed to avoid bashing into one another having never bungee jumped myself, but all I can say is that the visual result makes for great entertainment. It reminds me of a dodgey fairground ride which is hilarious and slightly hypnotising to watch. The funniest thing about the clip is the synchronised screams of the jumpers as they dangle from their harnesses, especially in comparison to the man filming who sounds like he's having a great time.
[yframe url='http://www.youtube.com/watch?v=hIuXwFH76HU&feature=related']
The crazy Russians attempted a similar event almost a year ago using a smaller group. It will be interesting to see what bungee jumping record the daredevils attempt next as I doubt it is physically possible to fit any more people on that bridge, unless they used the other side as well which would be truly impressive.
[yframe url='http://www.youtube.com/watch?v=9LpzNHPlX9k&feature=related']