When it comes to fast food, you know what you're getting. It might not be fine dining and the service is not top quality, but that's the deal when it comes to fast, cheap grub.
Featured Image VIA
Nevertheless, for some city dwellers, McDonald's and Wetherspoons is about as top notch as it gets. And when their service dwindles or is a cut above the rest, they feel the only appropriate course of action is to leave a review.
Not that we're complaining – the appraisals left by customers are pure comedy gold, which is why we've decided to put together some of our favourites from fast food hot spots in cities across the country.
Today our restaurant (used loosely) of choice is McDonald's of Northfield, Birmingham. We've already set the standard pretty high by choosing a McDonald's in Birmingham. Expect some quality analysis and completely justified statements…

Massive beefs

Quick clearing and cleaning

Short and sweet

Best Brum DriveThru.

Not very clean and fresh

Avoid with bargepole

Music Nazi

No stress

What was he expecting?

Can't beat eating in North Filed

No carrot sticks at Maccy's!?

Easily pleased

That's a lawsuit waiting to happen

Irresistible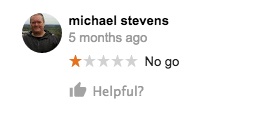 Clear and direct
---
Simply stunning. A personal favourite was the man and his carrot sticks – who in their right mind is bothered about/ordering carrot sticks from McFuckingDonald's? Nutter.
To read more stunning fast food reviews from Birmingham, click HERE.