Chandler Bing and Monica Gellar were a great couple, but could they transfer that love into real life? It seems like Matthew Perry and Courtney Cox might actually be giving it a shot.
That's if you believe Perez Hilton and his 'anonymous sources', so make of this what you will. Perez is claiming that the two have recently been spotted having lunch together in Los Angeles – which isn't that out of the ordinary, yeah – but apparently it's more than that:
Featured Image VIA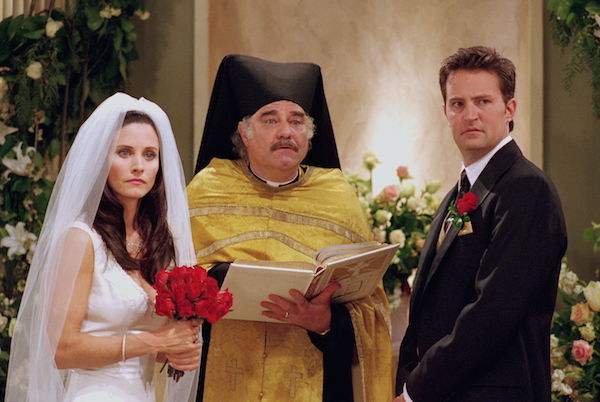 Image VIA 
They looked like more than just good friends.

It's no surprise that Matthew was one of the first people Courteney called after Johnny left her. They've leaned on each other before – during her infertility struggle and his battle with addiction.

They've been 'hooking up' recently but aren't in a rush to put any labels on it.
Well yeah, like I said, make of that what you will because Perez Hilton is known for making stuff up and there's no pictures of anything to go along with it. I don't think it would be that crazy if these two got together though as it wouldn't be the first time that two on screen lovers started dating in real life would it?
I mean just look what went down in Saved By The Bell all those years ago.