Sometimes it seems like the cost of a wedding is more than enough to put some people off, but if this applies to you then maybe you should take inspiration from the couple featured in this story, who chose to have their reception at KFC and only spent £100 for the privilege.
Images VIA
48 year old Edward Simms and his 34 year old wife Cherish – a car mechanic and full time mum respectively – had the ceremony at a county hall in their native Worcester and then invited everyone back to a local KFC, where bargain buckets, sides, desserts and family sized sharers are distributed at will and they were waited on hand and foot by the staff. The pair chose the restaurant not only because of their budget, but also because they're big fans of chicken.
Here's what Cherish had to say about it: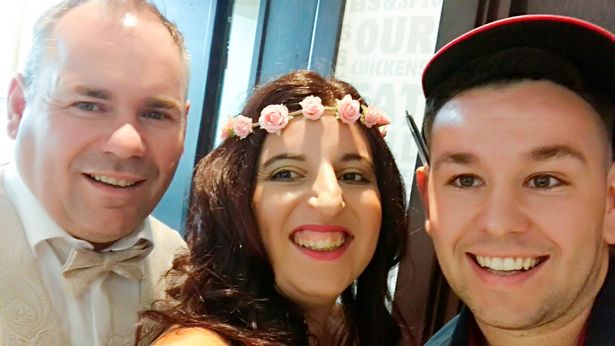 It was a joint decision and we thought it would be a bit of fun.

We love eating chicken and chips and we probably order food from there around once a week.

We didn't want a boring reception where we would have to organize everything ourselves so we thought why not see if it was possible.

Nobody was surprised when they saw the invite. 'They know what we are like.

We got in touch with the manager, who thought it was a bit strange, but was willing to give it a go for us.

We had more than enough to eat and they had really gone to town with the decoration, we didn't even plan anything with them, but they really managed to make our day special.

It was great value for money and we wanted to spend more money on our honeymoon instead.

We made sure we kept clean by covering ourselves in napkins.

All our guests really enjoyed the day, instead of spending the day with people we didn't like, with boring buffet food.

We wanted everyone to be relaxed and share our day with us.

I recommend it to everyone, why not have something a bit different.'
Couple of things to take away from that. Firstly, why would they be spending the day with people they didn't like if they had buffet food? Surely you could just not invite those people that you didn't want to enjoy your wedding day with you? Seems a bizarre way to justify your KFC wedding reception.
Also, they're saving up for their honeymoon instead of spending their money on the reception – where are they headed, Nando's? Sorry, had to get that in there. Maybe Portugal for some real Peri-Peri chicken if they can afford it.
In all seriousness though, weddings often do seem a bit extravagant so why not just not spend any money on them and have it at KFC. Do what makes you feel good and it seems like Cherish and Edward had a rad time so fair play to them. Maybe we'll be seeing more and more of this in the future.
For more of the same, check out this bride who achieved her lifelong dream of going to McDonald's on her wedding day. Everyone seems to be doing it these days.