In 2018 it seems like there are countless ways to make stupid amounts of money from barely doing anything and the most famous one of these is clearly by starting a dumbass YouTube account and going viral.
Images VIA
Whilst this may seem like a foolproof way to get rich quick, the reality of the situation is that unless you're working your ass off to come up with new content all the time then it's a lot easier said than done. And that desire for new and unique footage often leads to people becoming more and more desperate and coming up with quite frankly bizarre and controversial content for their channels. This is one of those times.
Ah Lin Tuch and her husband Phoun Raty film themselves in their native Phnom Penh, Cambodia catching, skinning and eating their local animals – which are obviously very exotic looking to the outside world watching their videos.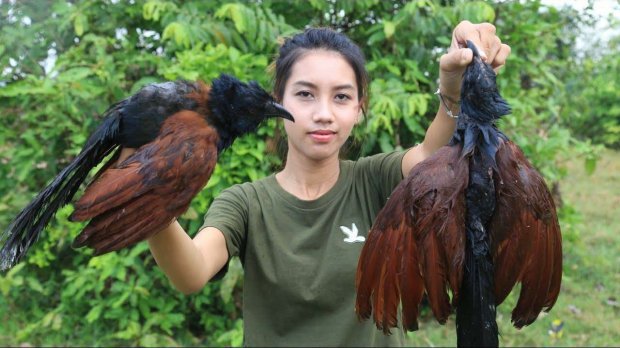 Whilst this all might sound fairly above board and entertaining – unless you're a vegan of course – the truth is that there's actually a massive problem as it turns out that a lot of these animals are actually protected and endangered species. That's not so good, not so good at all and the Environment Ministry's General Directorate for Administration of Nature Conservation and Protection, Chea Sam Arng is now coming after them both, issuing the following statement:
We are now in the process of taking legal action against them while the working group is preparing a report on the matter.

The animals that were cooked were mostly not on the endangered list, but are protected. Only one species was in danger of extinction.
OK so it was only one species, but still not that cool. Al Lin Tuch made her excuses in the following way:
I don't even know what kind of animals or birds we used or their impact on wildlife conservation.

I bought the wildlife at Preak Phnov and we started filming our videos since December. Now I have already admitted my mistake.
I mean I guess you can't really blame her as it clearly wasn't in her mentality to check what animals she was killing before she filmed them on her YouTube channel and ate them. Why would you though – it sounds as if it's just the way people operate in Cambodia, and I'm not getting into a debate about different cultural values because it's no way worth it at all. Not sure if she needs to get punished for her discretion but maybe everyone over that side of the world needs to get better educated about issues like this. Just saying.
For more crazy YouTubers, check out this one who is facing prison for feeding a homeless man Oreos filled with toothpaste. Jerk.