I know that it's a big tradition to have a massive cake at your wedding, but I've been to a bunch of weddings know and I'll be damned if I've ever actually seen anyone eating any of it.
Images VIA
Maybe the bride and groom get to take it back to their honeymoon suite and scoff down on it or something, but it seems like less and less people are bothered about them, to the extent that some couples aren't even having them or are ditching them for something different like a tower of pies. Yeah, you read that right – a tower of pies.
It wasn't actually their decision to do this though, which makes the whole thing even weirder. They actually won a competition ran by Holland's Pies that gave couples who were marrying the same day as the Royal Wedding the chance to have a cake of pies instead of a traditional one. You might think that people might be annoyed at winning that prize, but Lauren and Jonathan Smith were apparently overjoyed when they were picked.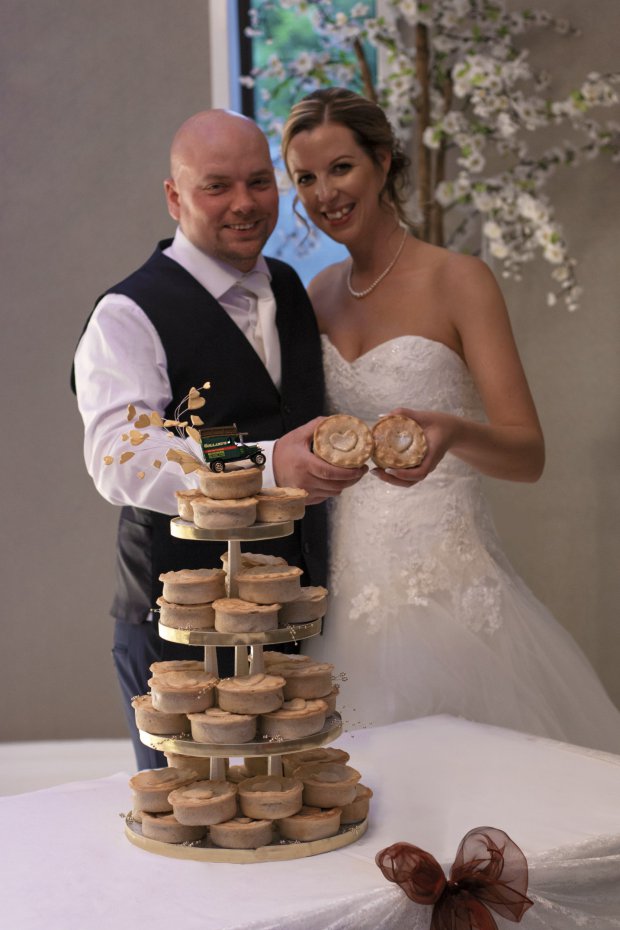 Lauren said the following:
Thank you so much to Holland's for making our wedding day even more special. We think our cake definitely rivals the Royals'. Our guests loved it and there wasn't a crumb left by the last dance.
I guess some people do offer their cake/pies around. Or maybe I'm just too wasted at most of the weddings I go to that I just miss it. I dunno – would probably prefer a pie anyhow. Hopefully this idea makes its way into way more weddings in the future. We can but hope.
For more weddings, check out these guys who handed out 300 McDonald's cheeseburgers at their wedding. Legend.