Seeing as we're all going to die from coronavirus in the next few months, now would be the perfect time to indulge in whatever secret kinks or fetishes you've been mulling over, maybe even some that you haven't even thought about yet.
Featured Image VIA
Well according to Vice, you can now search 'Coronavirus' on Pornhub and be presented with 100+ videos with titles like ""MILF In Coronavirus Quarantine Gets Hard Fucked for Medicine" and "Step Mom & Son Coronavirus Quarantine". Yikes!
A Pornhub spokesperson told Vice:
I think people are attracted to COVID-19 themed porn the same way people who are scared of their shadow are attached to horror movies: We are all searching for things that make us come alive.

COVID-19 is something that brings fear and mystery to pretty much everyone in the world right now… You need to be able to feel something, and what better way to make you feel something than the global crisis we are all in right now.
Er yeah, what could make you feel more alive than watching a guy in a Hazmat suit shagging a coronavirus patient, right?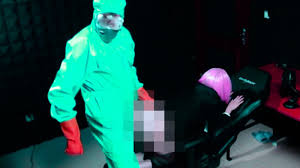 However, while most of the content is just straight up porn, some of the videos are also designed to educate you on the virus as you're wanking yourself off.
Take "COVID-19 Coronavirus: Horny Slut Has to Use Protection During Outbreak!" for example – it includes a 30 second public service announcement on coronavirus, how to properly wear a mask, and why we should all wear condoms during sex.
Porn star couple Spicy x Rice (the guy in the Hazmat suit and girl with pink hair) say:
We thought we would use our porn as an avenue to get some legitimate information out with some comic relief included to get people interested and reduce our chances of being banned

This sparked the idea, knowing every current event ends up as a porn eventually, we knew people will be searching for it on less censored platforms like Pornhub.
Looks like they're onto something. Educating the world on a deadly epidemic while also getting them off with topical porn scenarios. You might as well have a gander, right? Ditch the normie porn and try something a little bit more exciting for a change.
For the Lithuanian man who locked his wife in the bathroom and wouldn't let her out after suspecting she had coronavirus, click HERE. Can never be too careful.