If you didn't already have a reason to go out and buy one of the last few remaining face masks available, why not buy some anyway and get involved in this Russian Instagram model's bikini challenge?
Featured Image VIA
Bodybuilder/fitness model Yulia Ushakova thought it would be fun if everyone started using face masks as bikinis, and kicked off the challenge with a photo of her doing exactly that: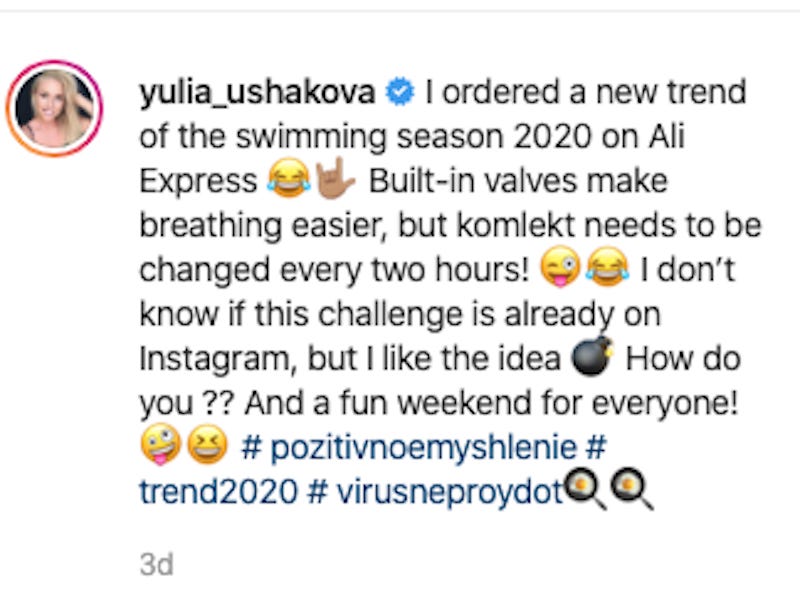 Maybe in another place and in another time, that would have been a successful social media challenge. But not March 2020 in the middle of a global pandemic, and not on other Instagram users' watch as they gave her a piece of their minds:
There is a global lack of masks. This is the worst joke I have seen during these horrible days.
Another said:
Totally stupid and disrespectful to all doctors and all those who are suffering. Unfollow right away. Enough.
A third added:
In the moment when those masks can save a life, this is not the best kind of joke you can do.
I guess it's mission accomplished for Yulia in the end because the whole point was to drive everyone to her page. I reckon she genuinely thought people would love the idea of a face mask bikini challenge though. Makes sense when you're Instagramming 24/7.
In fact she's the second IG model in a week to commit a coronavirus faux-pas. Yesterday one did a photoshoot in an empty supermarket aisle – lol.