Remember that show Cops that used to be on Sky One all the time (and probably still is if you stay up all night drinking and smoking weed like I used to), where a TV crew follows a bunch of Cops around on the beat as they bust drug dealers and generally just beat people up? You know it had that awesome theme music 'Bad Boys Bad Boys, whatcha gonna do? Whatcha gonna do when they come for you?'
Maybe you do remember it, maybe you don't, the point is they're making new episodes and in what could almost be described as an ironic celebrity death, when a crew member was shot dead by police after filming them trying to film a robbery. The guy's name was Bryce Dion and he was 38 and worked as a sound operator on the show for seven years.
Bryce was wearing a bulletproof vest at the scene but a police spokesperson said that a bullet slipped through a crack in between his vest and his chest, causing a fatal wound. There was no doubt that the gun that was fired that killed him was that of a cop as the robber they were trying to foil was only carrying a pellet gun, although officers believed it to be a real gun at the time. Almost needless to say is that the robbery suspect – a guy called Cortez Washington – is also dead after the cops shot him up too.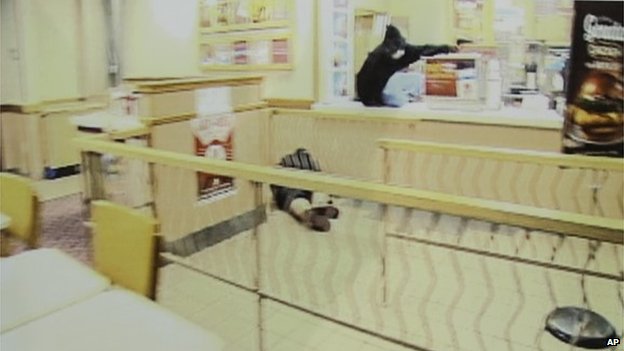 Two things about this – maybe Cops (deliberate capitalisation because they're not just cops, they're cops on the Cops TV Show) should be able to identify a pellet gun from a regular gun so they don't just open fire on people? And two, maybe they should give the people working on the show better bulletproof vests and not fucking shoot at them in the first place? Just saying.
The incident itself took place in a fast food restaurant in Omaha. Dion and a cameraman were with two other officers when they received a call for backup at said fast food restaurant. When they arrived Washington was firing pellets at them so they immediately opened fire. Dion was in the restaurant and was hit, so ran outside to try and get out of the crossfire, but only succeeded in getting shot more by cops outside, ultimately resulting in his death. Overall, over 30 shots were fired during the incident.
What a monumental fuckup. The Omaha police chief Todd Schmaderer said that the cops were very saddened by the incident and were taking it pretty hard because Bryce was their friend. Yet somehow he was the kind of friend they couldn't recognise when he came running out of a restaurant and decided to pump full of lead instead. That's my kind of friend.
If anyone needs any more evidence of how dumb gun culture is in America, then check out this story yesterday about the 9 year old girl shooting her shooting instructor in the head with an Uzi.