It's only been a couple of months since Floyd Mayweather managed to stop Conor McGregor in the tenth round of his professional boxing debut, but in a move that will surprise nobody the UFC man has come out and challenged him to a rematch – only this time he wants it inside the Octagon.
Featured Image VIA
Conor was speaking at a recent Q&A in Glasgow, when he revealed his thoughts about both Floyd and Paulie Malignaggi:
What sickens me is that the little mother fucker is retired now. If I had another go with him, under boxing rules, I'd get that win. He had to change his whole approach. With those lessons I learned, with another go around, I'd get it. He's 50-0 and getting on, I'm not calling him out. I'll sit back. We'll see how he gets on with this round of money. Maybe I'll get another call. Originally he was saying an MMA bout next. That's what he said before the fight.

He did say an MMA fight. So if he wants to, lets f*cking do it. There's not a hope in hell… I'd like to see him come over to our side and have a knock. I earned their respect and put myself out there. Style over to my side and earn our respect now.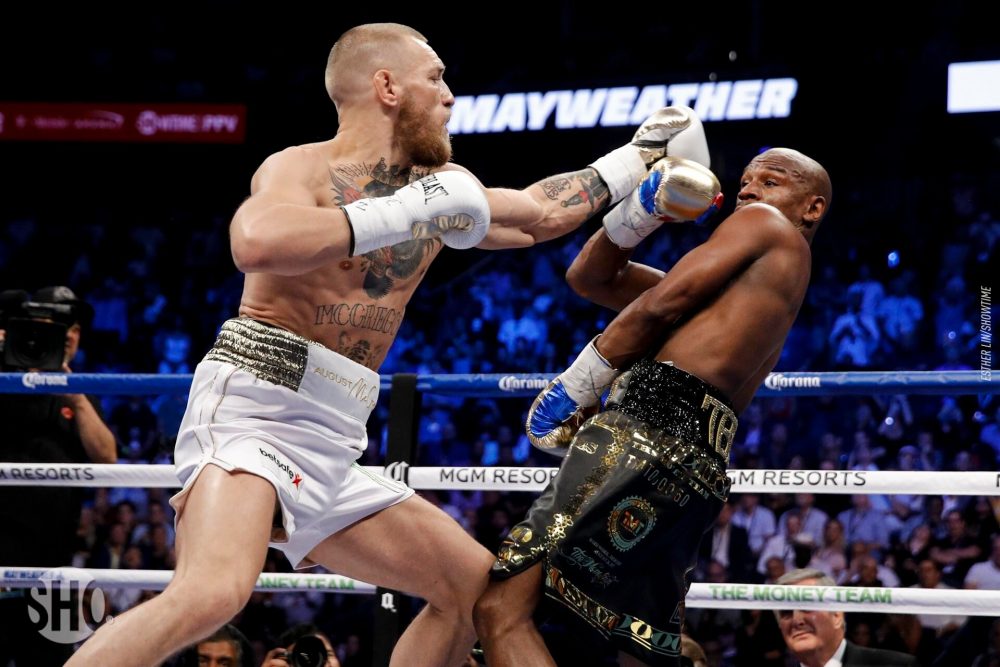 Paulie is talking enough shit, he's stuck for money, and looking for a fight. He's talking about bitch, bringing bitch, well bring your bitch and fight in a real fight. That's where we're at… I'd like one of them to come over on our side.

He's a fucking rat of a thing. If he wants, look, fuck… I've got the UFC title to defend. But if that little fool is stuck for money, maybe we could get him in for an MMA bout.
Yeah, I'm not sure if Floyd ever said he was going to have an MMA fight with Conor and I doubt either of those men are ever going to get in the cage, but fair play to Conor for trying to keep the rivalry going after he was so soundly defeated a couple of months ago. Guy could sell any fight ever – just doubtful we're ever going to see those two that he's talking about there though. We can but hope though, sure.
For more Conor McGregor, check out this documentary that charts his rise to the top. Probably needs a few extra scenes now.