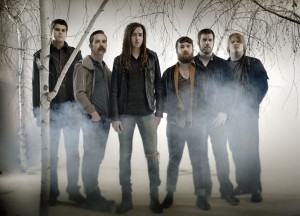 Fri 15th Apr — MANCHESTER ACADEMY 2
Double-Grammy nominated, Tampa-based rockers, UNDEROATH are set to release their seventh studio album, 'Ø (Disambiguation),' through Roadrunner Records on 4th April. The band have also announced a string of UK dates to coincide with the release.
For this album cycle, UNDEROATH welcome new drummer Daniel Davison (ex-Norma Jean) to the ranks, alongside Spencer Chamberlain (vocals), Grant Brandell (bass), Tim McTague and James Smith (guitars) and Chris Dudley (keyboards).
"We think 'Ø (Disambiguation)' is our best record by far," says frontman Spencer Chamberlain. "I'd say to fans that you may have heard UNDEROATH, but you've never heard UNDEROATH like this. There isn't a single part on this record that we would change. When we play it live, it will show that UNDEROATH is and always has been the sum of its parts. I couldn't be more proud of this record and happier with where we are as a band."
UNDEROATH 'In Division':
<center>httpv://www.youtube.com/watch?v=IdXzVFQnoCE</center>
COMPETITION TO WIN TICKETS
For your chance to win tickets to the UNDEROATH gig, sign up to our newsletter at the bottom of the page and answer this simple question:
What is the name of UNDEROATH's first ever album?
a) Define The Great Line
b) Lost in the Sound of Separation
c) Act of Depression
Yes, it really is as simple as that!