A marketing company tried to slut shame a hopeful intern for having a bikini picture (gasp!) on her personal Instagram account, and the way the whole thing has just backfired in the company's face is just a thing of beauty.
Featured Image VIA
24-year-old Emily Clow applied for the position with 'Kickass Masterminds' because she liked that the company was "founded by women". What she didn't realise was that these particular women were a bunch of catty, ruthless bitches:
This girl applied for an internship at a company, and they put up this screenshot of her in a bikini on their company Instagram, publicly telling everybody they wouldn't hire her because of this photo. pic.twitter.com/aRQF7CqfSF

— SheRatesDogs (@SheRatesDogs) October 1, 2019
'Kickass Masterminds' say they are an "expert-led, professionally organised, rigorously curated mastermind groups for entrepreneurs and business executives." They had a job opening, and decided to respond to Emily's application by checking out her social media and slut shaming her with this 'Public Service Announcement' to other candidates: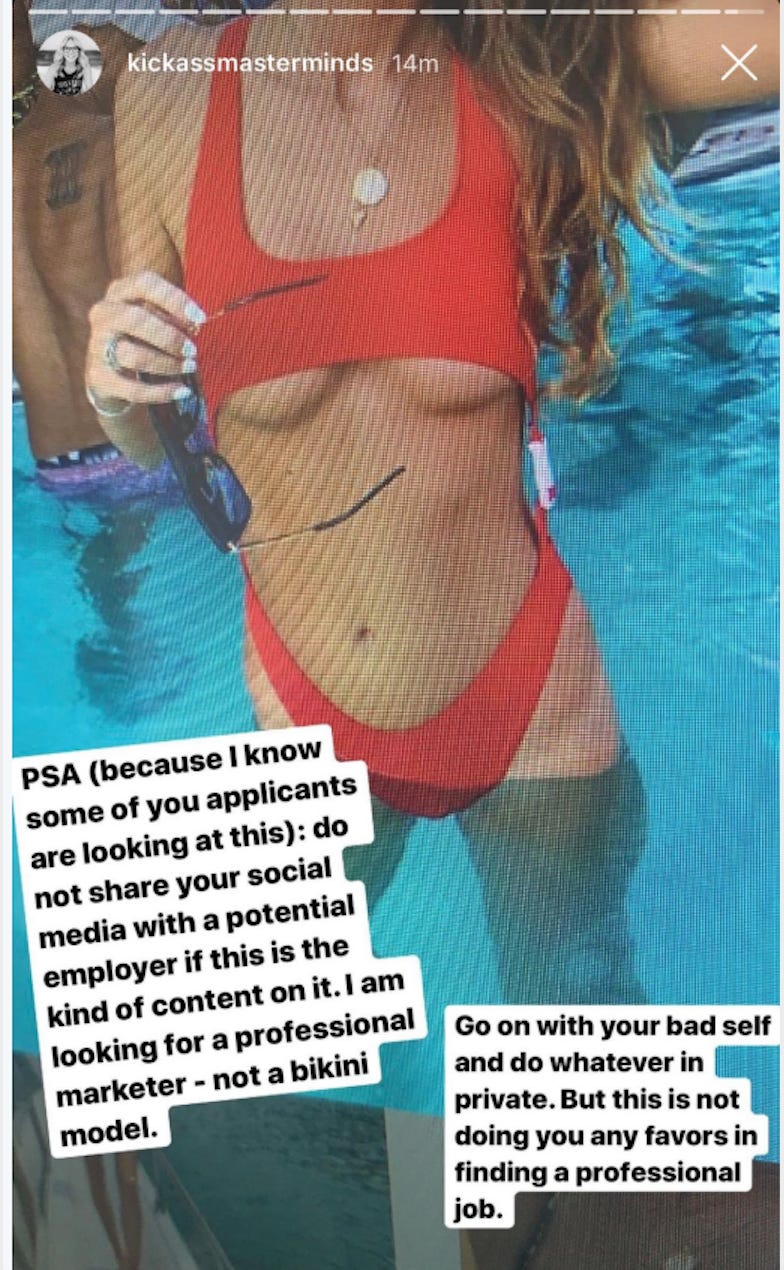 It wasn't long before this story spread around the internet and in no time at all 'Kickass Masterminds' was getting absolutely BURIED. They locked their Twitter, made their Instagram private, took their LinkedIn down and get this – they even took their whole damn website down!
With the whole world 100% on her side, Emily Clow took to Twitter to call out the company:
i was objectified earlier today by a company because of a picture of me in a bikini. they claimed it made me an "unprofessional." they screenshot the photo, posted it on their insta story and called me out.

i am still baffled that the company handled it in such a manner.

— Emily Clow (@emilyeclow) October 1, 2019
@kickassmasterm pic.twitter.com/rhVUhMTsZg

— Emily Clow (@emilyeclow) October 1, 2019
this is fucking hilarious, considering pic.twitter.com/dmjABdm4s3

— Emily Clow (@emilyeclow) October 1, 2019
I mean that LinkedIn description really highlights what a bunch of hypocrites the women behind 'Kickass Masterminds' really are. They say they're looking for ballsy people and rebels in a "quest for personal freedom" but when a young woman applies for a job they dig up her Instagram photos and publicly shame her for wearing a swimsuit in a swimming pool. WTF?
Here's a text exchange she had with them afterwards: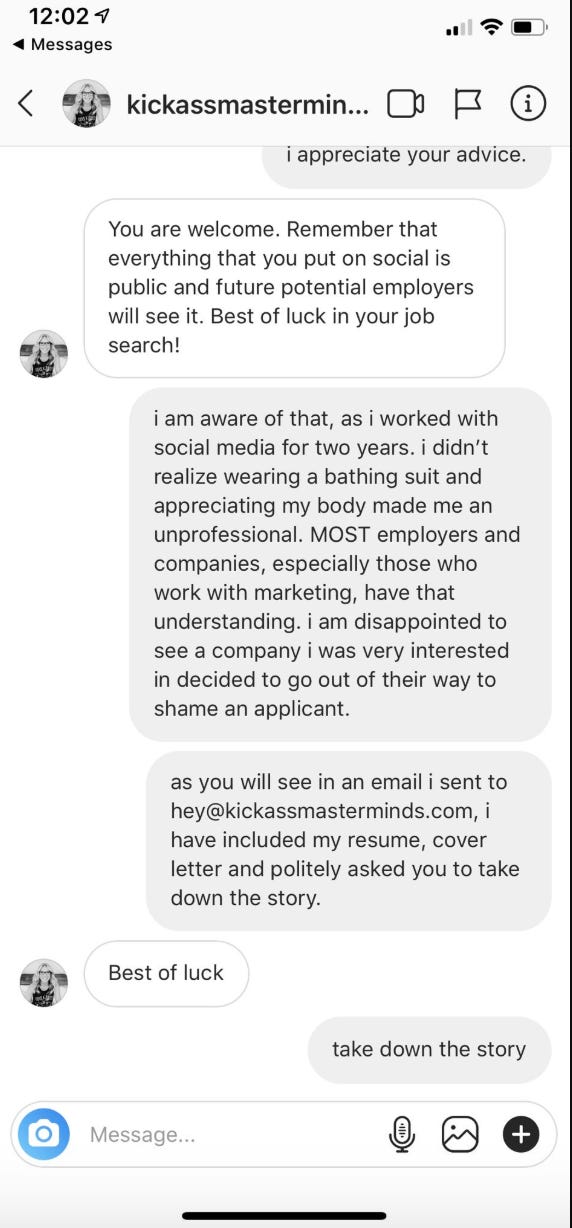 How lame and rude is that 'best of luck' response? Who needs the luck now, bitch?!
One more thing – before the company pooped their pants and made their Instagram account private, someone spotted that one of their recent photos was all the company women hanging out… in their swimsuits:
the irony here is that they have a bathing suit photo posted on their "professional" Instagram pic.twitter.com/h9yQwIe2og

— BrOOke👻 (@belizmarq) October 1, 2019
Oh, and Kickass Masterminds CEO Sara Christensen has this on her own IG account: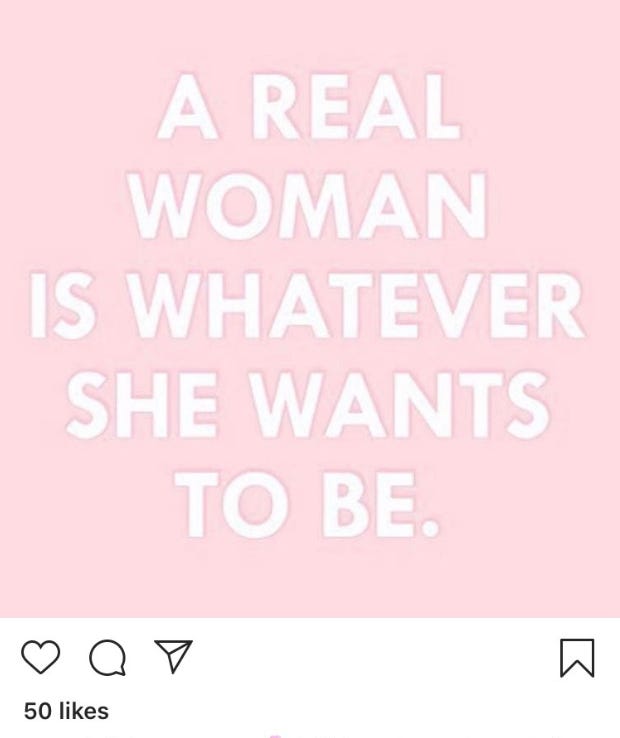 Shocking that a marketing company would have so little foresight and understanding of social media to not realise this would completely backfire, but here we are. I bet Emily finds herself a way better job in no time.
For the 82-year-old pensioner given an ASBO for wearing her bikini in the garden, click HERE (NSFW).