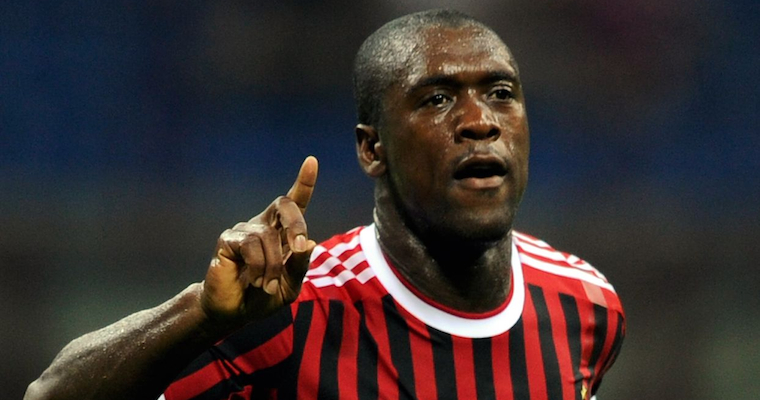 Clarence Seedorf just seems to be one of those guys who is a complete sickhead. He's won the Champions League with three different teams (I think he's the only person to ever do that but correct me if I'm wrong?) and four times in total and even though he's 36 he's decided to go play football in Brazil for a bit after he left AC Milan because he's still that much of a sickhead. On top of that he still manages to find the time to be one of the only pundits at the BBC that seemingly everybody actually likes. So yeah, it seems like Seedorf is one of those guys that is just good at everything and everyone likes him too. These guys are either the best kind of guys or the worst kind of guys, but as I don't have any aspirations (any longer) of being a professional footballer or a television pundit I'm going to assume that Clarence Seedorf is actually a pretty cool guy. Mainly because of that awesome goal he scored from the halfway line for Real Madrid.
Anyway, being a guy that's good at everything it's no surprise that Clarence Seedorf is actually fluent in Portuguese – despite only living in Brazil for a few months – and already appears on TV shows over there. I don't know what this show is but it seems like he isn't having any trouble at all speaking Portuguese to these guys does it? What a sickhead. I don't know why he decided to sing Otis Redding's 'Sitting On The Dock Of A Bay' either as I can't speak Portuguese but he absolutely nails it in this clip. So it turns out that Clarence Seedorf is not only good at football, speaking languages and football analysis, but he's also a complete sickhead at singing as well. If it turns out he's good at running websites too than I might just have to kill myself. How can he be so good at everything?
Check out the clip below (skip to 10.55):
☛ More: Footballers Singing Pop Music 
☛ More: Joe Cole Does Karaoke 
☛ More: Obama Does Karaoke 
EDIT: Ok I actually wrote this on New Year's Eve and since then the video of Seedorf singing on the talk show has been blocked. I searched YouTube and found this version which does sound like him but it's just a recorded version from 3 years ago which would seem to imply that he made a record and recorded it, provided it is actually him. I know that's a bit shitty in comparison to seeing him sing it live on a TV show but that's all I got now. If anyone can find a link to the talkshow anywhere feel free to send it over.
[yframe url='http://www.youtube.com/watch?v=hLdg2N6Be58′]

[yframe url='http://www.youtube.com/watch?v=R9iKps9ZDmM#!']