As it was sadly reported a couple of weeks ago, wrestling legend Rowdy Roddy Piper sadly passed away of a heart attack at the age of 61. This week the wrestling community gathered as a whole for his funeral and pretty much true to their characters that they represent on TV, they took the time to settle up some unfinished business.
Chyna, who famously dated HHH for years before he decided to get with the boss's daughter instead and pretty much become owner of the WWE, decided it was time to set things right with HHH and 'bum rushed' him at the funeral in order to 'apologise for everything'. I'm not really sure what that means, considering she's been bashing HHH for years about all sorts of things but apparently it's what happened.
I say apparently because the person who mentioned it on their Twitter account is X-Pac, who was recently dating Chyna before they split up, again in fairly bizarre circumstances with crazy allegations coming from both sides. Here's what X-Pac said (the second one is screenshotted because it's now been deleted for some reason):
Featured Image VIA
https://twitter.com/TheRealXPac/status/631773138548879362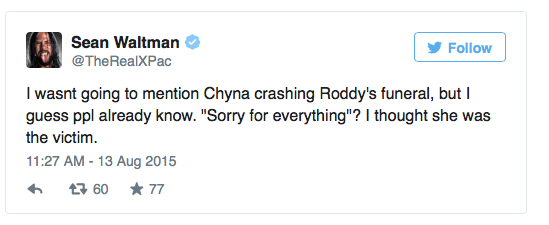 She was very close to being taken down by security, whether she knows it or not, after the threats & lies she's told about him.

— Sean Waltman (@TheRealXPac) August 13, 2015
If you want to know more about X Pac and Chyna's troubles then check out the radio show that Chyna did recently where X Pac called in to debate what she was saying (video below). It went on for about half an hour and is both equal parts bizarre, incredible and heartbreaking; it's basically something else. Chyna seems like she's completely lost it at this point, but I suppose we all knew that when she uploaded a video of her twerking in her bedroom for no apparent reason.