Street Fighter V was on show at E3 this week allowing gamers to get a look at some live streaming action.
Featured Image VIA
One thing people noticed was that not only are Chun-Li's boobs substantially bigger than they were in the previous games — she's also gone braless from the looks of things.
(Hit play on image below)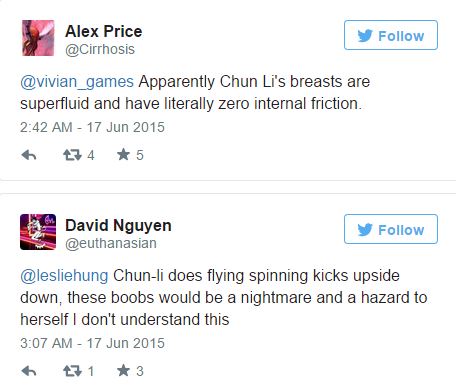 That's got to be on purpose right? Apparently not according to Capcom:
The whole Chun-Li jiggle thing is a glitch that only happens on the second player side of the E3 build and it will be fixed.
Ah right, just a glitch. Of course.
READ NEXT
This Is Undoubtedly The Most Violent Video Game Of All Time
Incredible Clips Of Mike Tyson With Street Fighter Sound Effects
10 Cases Of Disturbing Deaths Caused By Video Games