When it comes to horror movie villains, the Chucky doll from 'Child's Play' is one of the most iconic to ever grace the screen, so it's no surprise that the powers that be have decided to develop a TV show based around him.
Featured Image VIA
The SyFy channel announced over the weekend that the new programme would would simply called 'Chucky' and would focus on a doll that is unearthed at suburban yard sale and subsequently sent a small idyllic town into a state of despair following a number of gruesome murders. The show will also be looking the origins of Chucky himself and a wide supporting cast of both enemies and allies have been promised to appear as well.
Sounds interesting. Here's what Chris McCumber – the president of Entertainment Networks USA and SyFy for NBCUniversal.  had to say about the new show: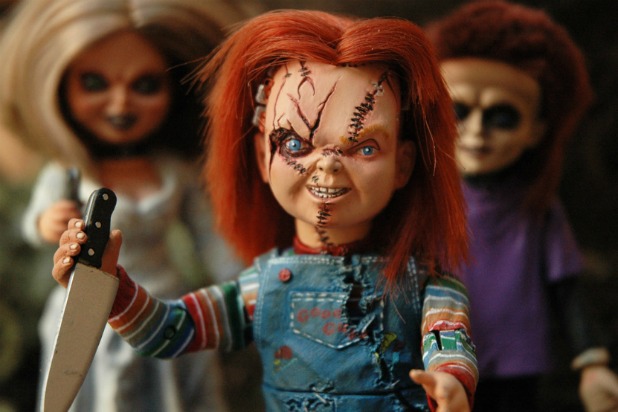 The character Don [Mancini] and David [Kirschner] created has terrified audiences for over 30 years.

The longevity and legacy of Chucky speaks to the creative storytelling and the loyal fans the film series has collected over the years.

We are excited and incredibly proud to bring Chucky to television for the first time with the original creators.
I mean it sounds like they're investing in the show for the right reasons and even if the film franchise kinda went downhill recently, it sounds as if they're trying to do this TV show the right way at least. No idea if it will end up being any good, but if you like horror movies and Chucky then it's gotta be at least worth checking out, right?
For more Chucky, check out this knife wielding Chucky doll terrorising the Brazilian public. Scary.