The Sopranos prequel 'Many Saints of Newark' is set for release at the end of this month, with fresh reports from CinemaCon in Las Vegas revealing some interesting information this week – Christopher Moltisanti himself will be narrating at least some of the movie.
Featured Image VIA
According to Screen Rant, fans in attendance were treated to a few exclusive scenes from the film,  and as they watched, one voice sounded very, very familiar.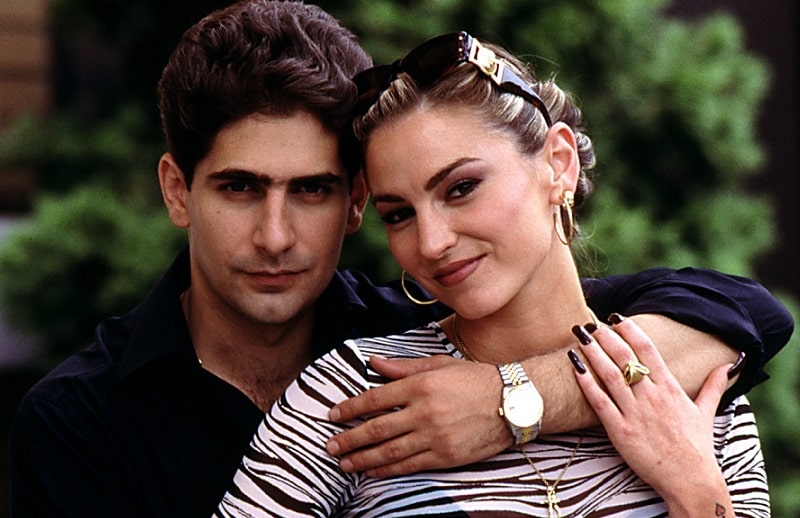 The source shares that "at least one scene in the upcoming The Sopranos prequel, The Many Saints of Newark, will feature a surprising cameo." Here's what the voiceover had to say, according to the source, which also pretty much confirms it's Michael Imperioli reprising his role as Christopher:
(*Spoilers* if you haven't seen the original Sopranos, in which case why are you even reading this?)
The little fat kid is my uncle, Tony Soprano. Well, we call him my uncle, by marriage. He choked me to death.
I imagine most people will be happy about this, although some are baffled as to how it makes any sense. After all, not only is Christopher Moltisanti dead, he also wasn't born at the time the prequel is set.
https://www.youtube.com/watch?v=rAFfeGRbWLQ&feature=emb_logo
Obviously, they're going for a cool plot device here in which Christopher is narrating from beyond the grave, at least for some scenes. It actually makes perfect sense since a) they can't use James Gandolfini for obvious reasons and b) the film focuses a lot on Christopher's dad Dickie Moltisanti, who as we all know was gunned to death bringing a baby stroller (or was it TV trays?) home for baby Christopher.
In fact Moltisanti literally means "many saints" in Italian, so the more you think about it, the more it makes sense that they'd involve Michael Imperioli's character somehow. Pretty impressive that he managed to keep his mouth shut about his involvement for all this time, given he literally does a Sopranos podcast every week. Cannot wait for this movie to drop on September 22 – I've got a feeling it will do the series justice.
We'll leave you with one of the best Christopher Moltisanti scenes ever – the classic intervention from Season 4. Lol:
For a look at who's playing Christopher's grandfather in the movie, click HERE. Whoa.