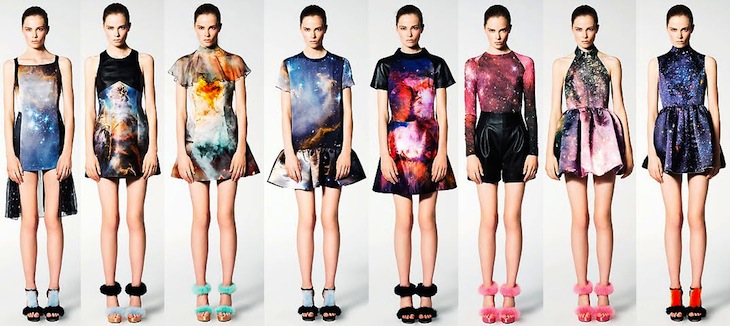 Sick Chirpse knows that when the infallibly-stylish Alexa Chung starts wearing the clothes you designed to an NME party, or somewhere of equal 'hipness', then it's more or less universal confirmation that you've made it in the fashion industry. Enter Christopher Kane. Kane is a designer whose bold designs you may recognise, in particular, his highly-coveted digital 'galaxy prints' from the S/S Resort 2011 pre-collection. Resort 2011 is a fantastical collection of colourful, cosmic creations that allows you to sport a nebula on your jumpsuit or a black hole on your t-shirt. Awesome!
As with most items of designer desirables, the main drawback in procuring a genuine piece of Kane while the hysteria around him is still at an all-time high, is the hefty price tag attached.  Therefore, it is in times like these that the non-high rollers may have to 'Resort' to the high-street in search of cheaper alternatives.
Given that Kane has already moved on to Resort 2012, a geometric-patterned rainbow collection of shift dresses, slouchy knits and blazers, one would assume that those among us (and I believe, there are many) who still yearn for a bit of astronomy in their wardrobe would be well catered for by now? Apparently, this is not the case. You see, what we are looking at here, ladies and gentlemen, is a gaping hole in the market: the affordable galaxy-print garment.
It just never happened; the high street didn't ever seem to recognise the fact the style-conscious population at large (including fashion blogs, who need to blog off), were waiting with eager anticipation for some well-known high-street retailer to unveil their interpretations of the digital-space-nebula prints. And now, seasons have changed, designers have moved on, your wardrobe remains firmly on planet Earth, and suddenly you just can't seem to get out of bed in the morning.
Fortunately, being the level-headed optimist that I am, I have two pieces of good news for all you wannabe star-gazers out there who missed this trend the first time around. One: I have lovingly sourced a few of what I have found to be the best examples of affordable Kane-esque digital designs out there on the Internet. Two: most of them are now on sale to make way for new season stock, further reinforcing the idea that sometimes being fashionably late can be a good thing. Enjoy!