I've heard of athletes wearing lucky underwear or doing some superstitious pre-competition ritual before going out onto the field/track, but wearing lucky Doritos earrings?
Well it might sound crazy but apparently it works because 31-year-old Christina Clemons finished 3rd in the 100m hurdles at the U.S. Olympic track and field trials on Sunday, sealing her spot at the Tokyo Olympics this summer, and doing so while rocking mini Cool Ranch Doritos on her ears.
I made the Olympic team wearing a bag of @Doritos on my ears. Twitter, I need y'all to do your thing! We need to blow Doritos mentions UP 🙌🏾😂 pic.twitter.com/bGyiEcqiOD

— Clemons, Christina A (@SheTheMann_ing) June 21, 2021
What a move tagging Doritos in that Tweet. This is obviously a person who f*cking loves Doritos and had the genius idea to wear Doritos earrings while securing her place in the 2021 Olympics, which pretty much guarantees her a sponsorship deal given how viral that Tweet has gone and how much publicity she's getting. Doritos are probably writing up a six-figure deal for Christina as we speak. Free unlimited Doritos for the rest of Christina's life? You betcha.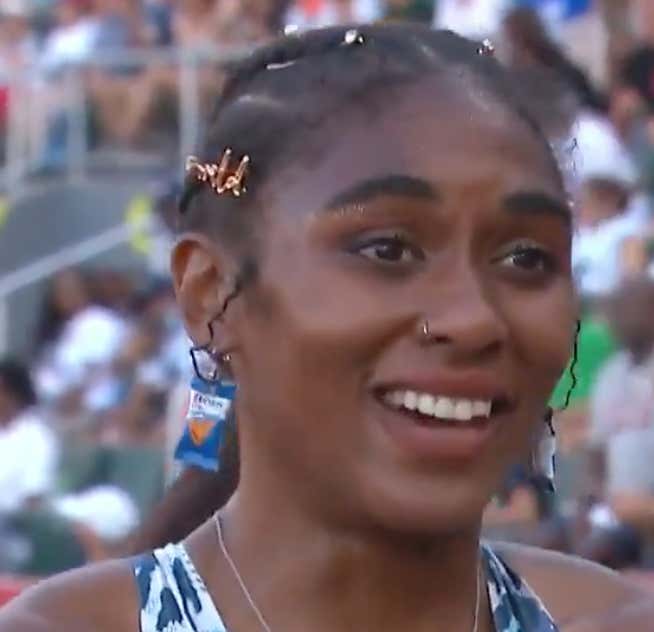 Imagine Christina gets the gold this summer and gets up on that #1 spot on the podium while wearing Doritos earrings and eating out of a Doritos bag? There's no way a company like that is going to pass on that opportunity now that Christina is going to Tokyo.
It could end up being one of the most viral moments in Olympics history. Come on Christina – you got this!
To meet the person who spent $12,000 on the world's largest Dorito, click HERE. You mean it wasn't Christina Clemons?