They say that marriage is a compromise and there's a lot of give and take, but that isn't how 62 year old Robert Simmons saw it, as he decided to draw up a list of chores that his wife had to complete in 15 minute intervals and would beat the crap out of her if she didn't. Sounds like a great guy.
Images VIA
Simmons was finally held accountable for his crimes at a recent trial where the full list of his outrageous treatment of his wife was revealed, which included the following incidents:
The day was divided into 15 minute slots where she was expected to complete various chores. If not she was beaten.
She had to carry a mistake book around with her where she listed the times that she had displeased her husband.
Christmas Eve 1988: Simmons repeatedly struck his wife around the head
1990s: Forced his wife to stand in an outbuilding while he hosed her down with cold water
1991: Forced her into the boot of his car when she tried to run away
1992: Strangled her until her breathing became restricted
Gave her two black eyes by standing on her head
1998: Pushed her to the floor causing nerve damage that still affects her
May 2015: Assaulted his wife in a car leaving her with a black eye and bloodied nose
Late 2015: Hit her across the back of the legs with a plastic pipe
Got close to her ear and shouted loudly, swearing and hurling threats
Sounds like a real dream marriage huh? If you're wondering why the heck his wife didn't leave him sooner, then procurator fiscal Duncan MacKenzie has the answers in the statement he made at Lerwick Sheriff Court (pictured below):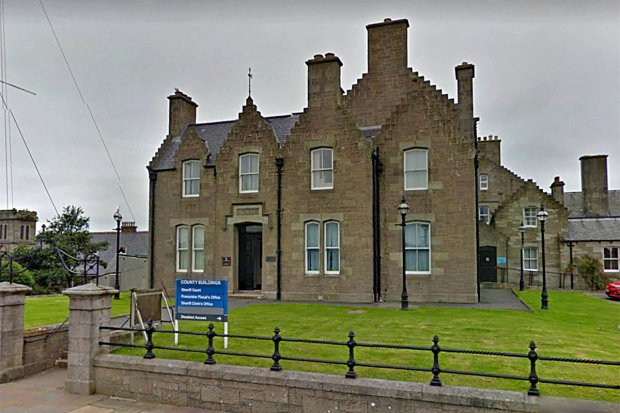 Simmons ran a 'cult-like' atmosphere in the family home and used religion as a justification for his 'coercive and controlling' behaviour at the family home in the Shetland Islands.

He forced his wife to take a vow of obedience to him. Their six children who were all home-schooled, depriving his wife of any interaction with other people at schools.

Simmons set rules and punishments for their household, but they were changed frequently meaning it was impossible to get them right.

It's difficult if not nigh on impossible to comprehend the impact the accused's behaviour has had on the complainer.

The complainer is a fully-qualified and highly intelligent woman effectively robbed of all sense of self-worth.

He was someone to whom she deferred completely.
Jesus. Sounds like an absolutely wretched existence and like it could form the basis of some weird arthouse movie from someone like Lars Von Trier. Can't believe she put up with that stuff for 20 years. Heart goes out to her.
Simmons eventually admitted to eleven charges and is expecting a jail sentence when he returns to court next month. Good – guy sounds like an absolute prick.
For more Christians, check out this 38 year old virgin who has legally married Jesus Christ. Great.