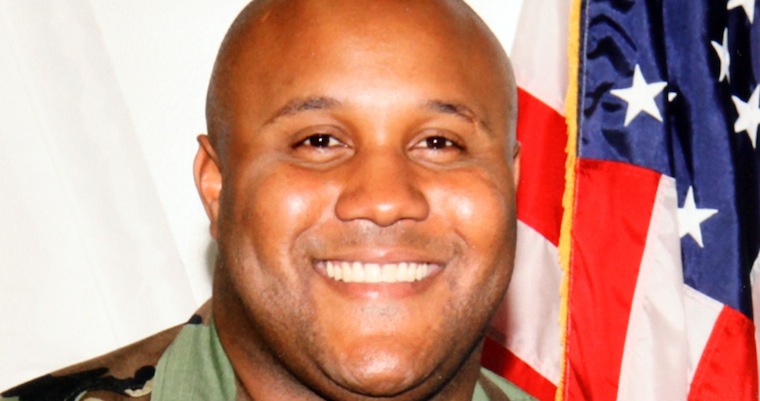 "He knows what he's doing. We trained him," reflects the chief of the LAPD.
Dorner, 33, is a former LAPD police officer who went on a rampage last week, killing three people and declaring "asymmetrical, unconventional warfare" against the LAPD and their families. He has whipped up so much hysteria around Southern California that police looking for him have mistakenly shot at three innocent civilians, mistaking them for Dorner. There's also a $1 million reward for information leading to his capture.
Dorner has now released an 11,000 word online manifesto, addressed to "America". It reads as part biography, part suicide note, in which he paints himself as both hero and victim, attempting to explain why he believes his actions are a "necessary evil" but ultimately accepting the fact that this will not end well for him. In his manifesto he recalls being bullied as a child and warns journalists that he resents being labeled a bully himself. He stresses the importance of clearing his name and how his situation came to be after his termination from the LAPD in 2008.
☛ Read Next: John McAfee Goes Batshit Crazy!
Dorner was accused of filing a false report concerning the improper conduct of a fellow officer for police brutality. According to Dorner, this officer had kicked a suspect in the face while he was handcuffed on the ground. When the case was reviewed, they decided Dorner had made the whole thing up in an attempt to sabotage the other officer and relieved him of his badge, while the other officer went on to become a sergeant.
If true, this is the kind of injustice that makes your blood boil. We may never know whether Dorner was doing the right thing reporting that officer or whether he made the whole thing up. Whatever the case, it's no excuse to go on a trigger happy rampage around LA, threatening your old colleagues and their families. Unfortunately the man has lost it, and by releasing this manifesto he is clearly on some level enjoying his newfound notoriety.
☛ Watch Next: 71 Year Old Dude Shoots Up Armed Robbers
In the second half of his manifesto, Dorner gives thanks to his close friends, inspirations and "the unnamed women I dated over my lifetime for the great and sometimes not so great sex".
He rues the fact he won't be around to watch The Hangover III.
He gives props to Hilary Clinton, Bill Clinton and George Bush. He cites Colin Powell's autobiography as a major influence on his life.
He wishes a slow, fiery death on the members of the Westboro Baptist Church.
He offers road advice to cyclists.
He lets it be known that he is a huge fan of Ellen Degeneres and Charlie Sheen (the latter has urged Dorner to give him a call).
It's easy to read Dorner's manifesto and to sympathize with him. You'll probably read it and think "oh, he's got a point" about certain things. He obviously feels he has been majorly wronged and comes across sincere in conveying this. However, don't forget what he's done. He's slain 3 people and plans to slay more. The man clearly has a death wish, but why is it necessary to go out like that? Is killing innocent people going to clear his name (as he claims he wants in his manifesto)?
☛ Check This Out Next: Bizarre Standoff Between LAPD And Man Inhaling A Balloon
Which brings me back to the point about this being more of a suicide note than anything else. This 11,000 word essay was all about Dorner and no one else. It is about his life and death. The people he killed and people he plans to kill don't matter. You can read about the man in his own words and empathize with him, but what is he really saying with his manifesto? What was the real purpose of writing it? Is he right wing or left wing? What does the fact that he is a fan of Jay-Z and BB King have to do with the murders he has committed?
It has nothing to do with it. Linking all these random, contradictory bits of information is not important to Dorner because the point of this "manifesto" (or suicide note) is not to give information, but to convey to you his mood. He is indulging himself in self-importance as only a man who feels like he is at the end of the road can.
As I write this, the manhunt continues at the Big Bear ski resort in southern California, where Dorner's car was found burnt out nearby. Hopefully they'll get to him before he gets to anyone else.
Read Chris Dorner's manifesto on the next page if you have about an hour to kill though. Be warned though, it's really screwed up.