The phenomenon of deep frying anything and everything has been going on for some time now, but I didn't think it would get to the point where we were deep frying Jaffa Cakes. Here we are though.
Images VIA
It's come to the attention of the internet that The Chippy on Railway Street in Antrim, Northern Ireland has started selling these delicacies. To those that were brave enough to try one, they reported that the whole sponge, chocolate and orange filling melts down once covered in batter and exposed to extreme heat, leaving the inside nice and gooey but the outside crunchy as a result of the frying. Actually sounds pretty nice when you put it like that hey?
No news on price yet as The Chippy was simply giving them away last week to gauge opinions on them, but seeing as everyone seems to be enjoying them it's a safe bet that they'll be on the menu full time fairly shortly. Excellent news – here's what a spokesperson from The Chippy said about them: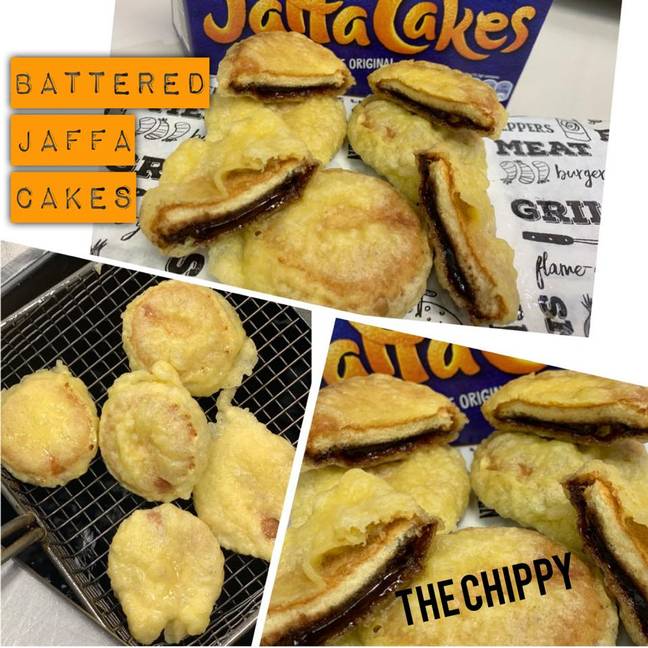 They are going down quite well. Some people were a bit sceptical about trying them but once they ate they quite enjoyed it.

People have already been giving me ideas of what they would like to see at Halloween and Christmas!

We do these wee random treats, not necessarily to sell them but to see what people think. It's definitely got people talking and they are debating whether to try them or not.
Interesting. Hopefully other people follow suit and start doing them over here because I don't think I've got any plans to head to Northern Ireland any time soon. Fingers crossed.
For more of the same, check out this 2000 calorie deep fried Mars bar calzone. Delicious.