In one of the most epic cases of oriental inebriation since records began, we salute Jiang Wu from Qingdao, eastern China.
This monumentally drunk Chinese man mistook a 40ft shipping container for his hotel bedroom and snuggled down for the night.
The morning after the " big night out" Jiang Wu woke 60 feet in the air to a dry mouth, a head full of stupid and the familiar smell of Facepalm in the morning.  By now the container was externally sealed, crane loaded and bound for Los Angeles — a two week trip… leaving in 1hr.
Without food, water, basic ventilation or even light, and at 80 degrees and rising, life had taken a notable turn for the worse.  Jiang Wu had woken to the grizzly prospect of being starve-cooked to certain death – in the dark.
Wu undoubtedly saw the funny side of his predicament in light of the conservatively indiscriminate pant shitting presumably  underway by around mid-morning.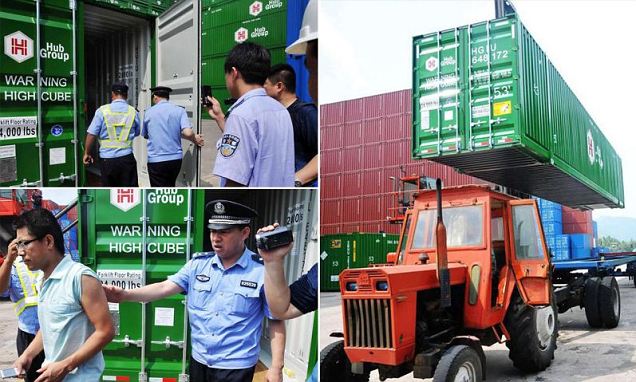 After calling everybody in Eastern China at least five times, not excluding the police, Jiang Wu was eventually discovered in a confused state of terror. The search lasted several hours owing to shame faced Wu's staggering inability to distinguish even the colour of his container.
"His problem was, though that he couldn't tell us which container he was in…  there were thousands of them stacked on top of each other" 
☛ Read Next: US Government Finally Acknowledges Area 51 Exists
Needless to say Wu made the national news and landed in deep Chinese shit. Here's the news report:
[yframe url='http://www.youtube.com/watch?v=ngltdjiwtCs']