Imagine getting your mail one day and along with the usual bills and junk there's an interesting package from… China? You don't remember ordering anything from China but you open it up anyway and find a bunch of seeds inside.
Featured Image VIA
Apparently this is happening all over America, and Americans are being told NOT to plant the seeds:
U.S. warns against planting unsolicited seeds from China https://t.co/HQJa3pKmh9 pic.twitter.com/CkfBsTmYjy

— Reuters (@Reuters) July 29, 2020
We have received reports of people receiving seeds from China that they did not order. If you receive them – don't plant them. Report to @USDA_APHIS at https://t.co/0U53rbAiHs pic.twitter.com/Y4yAKv5bk7

— WA St Dept of Agr (@WSDAgov) July 24, 2020
Would you plant them? I wouldn't but that's because I've never planted anything in my life and probably just wouldn't be arsed. But if I was an American with green fingers and a massive garden and time on my hands? I might just say fuck it and plant those bad boys!
Happened to this guy…
True story. My Dad got random seeds in the mail a few years ago and actually planted them. They turned out to be some sort of fast-growing tree that he's now trying to get rid of.

RT if you want him to come on Odd Lots to talk magic beans and also silverhttps://t.co/DzHNIL2tYb

— Tracy Alloway (@tracyalloway) July 29, 2020
How mysterious. Who knows what these seeds are and what they're capable of. Is China just trying to be nice and give Americans a peace offering or is this a Trojan Horse to destroy the land they live on? Oh god, just imagine…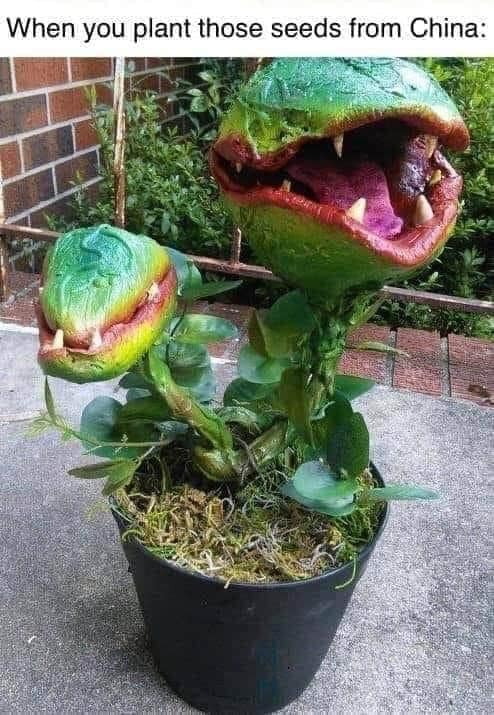 China, of course, is taking zero responsibility for the mystery seeds…
China denies responsibility for mystery shipments of seeds to US https://t.co/KhbFJA4G18

— Washington Examiner (@dcexaminer) July 29, 2020
Well it's not like China has ever lied before, right? We've just gotta trust them on this one!
Either way, probably best not to plant these seeds if you get them in the post. Don't throw them away either, which is basically like planting them. Only one safe action I can think of – burn them!
For the postman who said he felt 'pressured' to deliver mail and so hid it all in a storage unit instead, click HERE. What a pro.