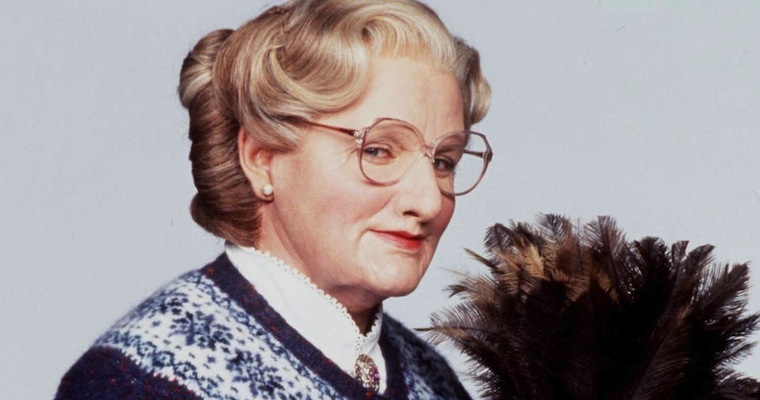 I loved Mrs.Doubtfire, The Lion King gave me a damp eye, and Willy Wonka was bitchin'; but looking back on all those films made in the 80's and 90's, I can't help but pick up on creepy and disturbing undertones these days (OK…maybe take The Lion King out of that equation…that shit was plain awesome). This isn't confined, it's an epi-fvcking-demic; I'm guessing all you sick-chirpsers are aware of the grim anti-Semitic and racist undertones in Disney Movies, the acid-esque kids show Rainbow, and does anyone remember the BBC's Look and Read programme at school? That shit had some massive ecstasy-related subliminals – a song called Magic E for fucks sake!
I digress though. You don't need creepy subliminal messages anymore to completely warp the premise of a childhood movie…or any movie for that matter. After discovering a recently uploaded YouTube video of Mrs.Doubtfire, re-cut as a horror, I found a whole YouTube underworld of videos dedicated to twisting famous movies into something completely idiotic. All it takes is some appropriate music and delicate editing. After a short while in this section of YouTube, you will find comedy and childhood classics re-made into horror and thriller trailers; whilst you will also find horror, thriller, and historical movies re-cut to romantic comedy and general knee-slapper trailers.
Here are some of my favourites.
Mrs.Doubtfire (Horror Edit)
[yframe url='http://www.youtube.com/watch?v=N3bgipCebuI']
Willy Wonka (Horror Edit)
[yframe url='http://www.youtube.com/watch?v=o9Cby33ZR98′]
[yframe url='http://www.youtube.com/watch?v=zLDx-BPgxxA']
The Shining (Seinfeld Style Sitcom)
[yframe url='http://www.youtube.com/watch?v=pRtyqK4nbVU']
Forrest Gump (Gangsta' Movie)
[yframe url='http://www.youtube.com/watch?v=xAKgRNx6FLQ']
Jaws (Singing Shark Disney Edition…and just plain fantastic)
[yframe url='http://www.youtube.com/watch?v=Dr1pFnJj6H0′]