Vegan activists storming restaurants is pretty unnecessary albeit nothing new, but what has started to change is the way that restaurant owners, chefs and customers react to these attacks.
Images VIA
The latest example comes courtesy of Michelin Star restaurant The Square in Mayfair, London that was targeted by vegan activist group Direct Action Everywhere (DXE) at the weekend. They were protesting against the foie gras practice – the force feeding of birds to produce luxury meat – and one chef reacts to this by grabbing his dead ducks and waving them in their faces to illustrate the high quality of produce that had been produced.
Chef Clemont Leroy said the following about the protest:
Our Foie Gras encased in Beeswax is one of my signature dishes which our regular guests especially enjoy. We are a Michelin Star French restaurant and this delicacy is sought after in fine dining establishments.

We welcome any diners wishing to try our specialist cuisine to enjoy lunch or dinner with us at The Square, one of Mayfair's institutional eateries.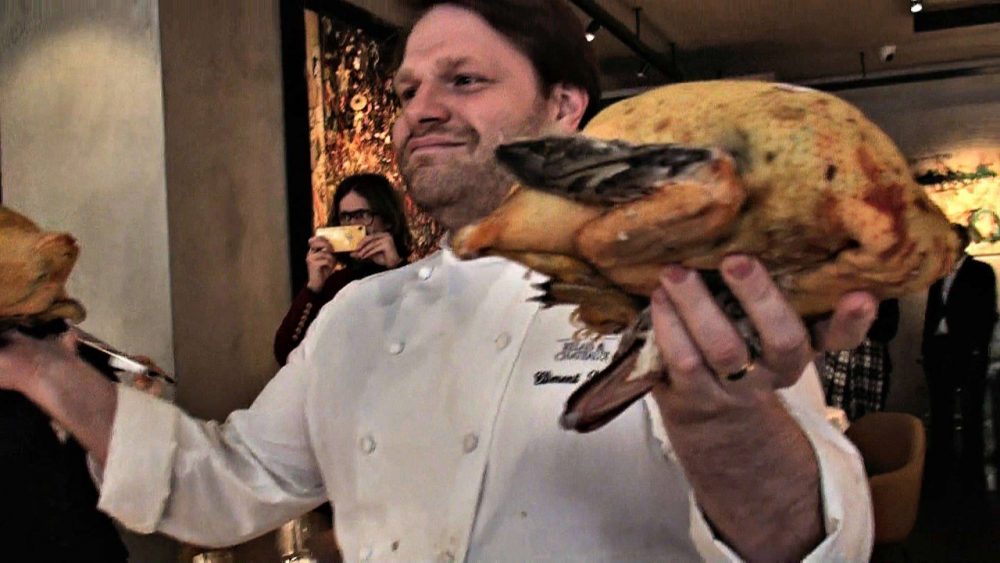 The restaurant on the other hand said this about Leroy's actions:
Chef clement Leroy, formally of famed 2* Guy Savoy in Paris, showed the activists the high calibre of produce that The Square serves.
Sounds like neither of them are particularly behind the vegan revolution. The protesters themselves decided to hold placards saying 'it's not food, it's violence' and chant the same thing in front of diners and workers alike.
Like most of these protests I admire the sentiment, but I doubt anyone in attendance had their diet or lifestyle changed by the fact that this happened. If anything, it probably made them more against vegans for acting like this in the first place. I imagine they'll keep acting like this though.
For more of the same, check out these protesters forming a human chain around turkeys so they can't be bought. Extra.