In case any of you hadn't noticed, Brexit claimed a new victim in the form of Marmite today, after Tesco announced it would no longer stock the yeasty spread as well as Bovril, Pot Noodles, Hellmann's mayo and Ben & Jerry's.
Featured Image VIA
This came following a price row with producer Unilever over the plunging pound and the company demanding a 10% rise in its products. Ever since Tesco refused to pay more, its stores are now running seriously low of all of these much-loved food items. The nation has been quite frankly distraught, even giving it the title of the 'Great Marmite Famine of 2017'.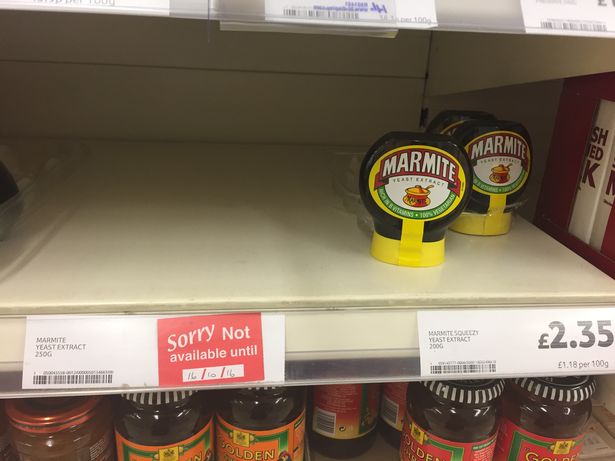 Anyway, one person who I didn't expect to hear from amidst this huge mess is Charlie Brooker, but it turns out he amazingly (kind-of) predicted this Marmite saga in his upcoming series of 'Black Mirror'. Here's what he tweeted:
There's a scene involving Marmite in a London-set episode of the new Black Mirror series. Meant to be near-future. NOW A UTOPIAN PIPE DREAM.

— Charlie Brooker (@charltonbrooker) October 13, 2016
(That's not a joke btw, there really is a scene with some Marmite in it. Not being fed to a robot or anything like that, mind.)

— Charlie Brooker (@charltonbrooker) October 13, 2016
OK, so he might not have predicted that we end up with a shortage, but don't you think it's weird that Marmite is a focal point in one of the scenes for his dystopian drama? It's made even weirder when you remember that the first episode of 'Black Mirror' is about the UK Prime Minister fucking a pig, which aired shortly before the whole David Cameron piggate thing came out.
Charlie Brooker – clearly he's a man of many talents, one of those being the ability to predict the ridiculous future of Britain. What a guy.
Anyway, hopefully Tesco and Unliver sort their shit out soon because there's no way the nation is going to resort to eating Vegemite. That shit is gross.