It's one thing to be a hardcore Spurs fan, and it's quite another to coat yourself in butter and take on 12 prison guards because your team's arch-rivals won their first trophy in 9 years.
Charles Bronson – definitely the most hardcore Yid in York's Full Sutton prison — wrote a letter to Kate Kray (ex wife of Ronnie Kray) in which he revealed he went berserk after watching Arsenal roll over Hull in the final.
He wrote:
"Not good news. I've had another rumble. This time with a dozen riot mob on the yard! I so wanted Hull to win, coz I'm Spurs. I got Lurpak and spread it on thick. Then a small cloud appeared."
Bronson was first jailed in 1974 for an armed robbery on a post office and by 1999 had got himself a life sentence for holding a prison teacher hostage for 44 hours. They had to move him from Full Sutton to Woodhill in Milton Keynes after he battered a prison governor for criticising his art work.
Oh well, better luck next season Charles.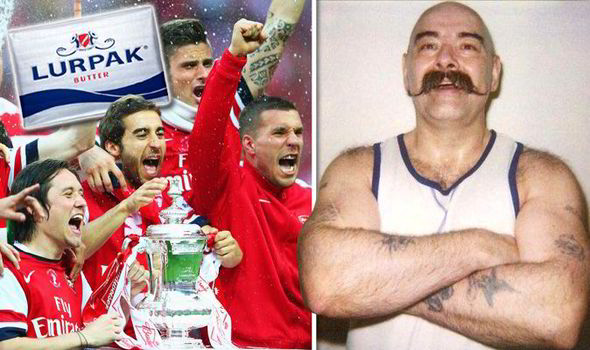 ☛ The Other Bronson: Action Bronson Fights Security Guard On Stage During Show