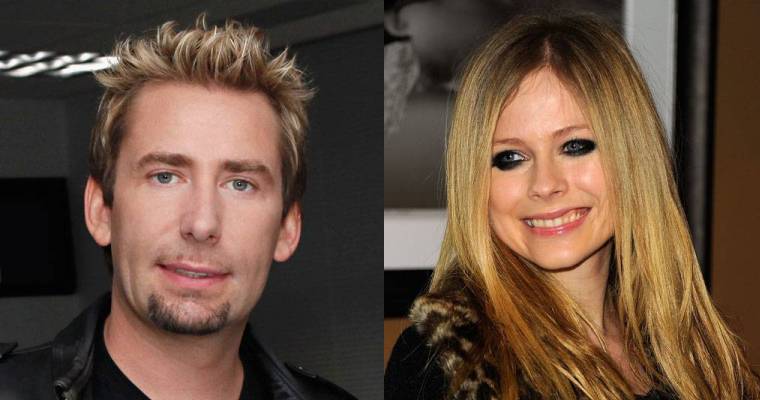 After a truly depressing few days of jerks saying stupid, insensitive shit in regards to rape, I welcomed the news of Chad Kroeger and Avril Lavigne's coming together as something really special and elevating. On any other week, I'd probably have derided their partnership as a sham and attempted to piss on their dreams but not today, no-sir-ee. In fact, I think we should have an international holiday to celebrate this occasion. It could maybe replace Christmas. However, before I head to the High Court to see if I can set the wheels in motion for 'Super Awesome and-in-no-way-lame Rock Couple Day' (working title), let's consider how the grubby rock duo's wedding is gonna go down. Spoiler alert: it's gonna rock, hard.
I'm Glad I Crashed the Wedding
Let's face it, Avril is a slice of sexy Canadian bacon, so it's very reasonable to assume that her ex-husband Deryck Whibley might crash the wedding and fvck shit up and earn his rightful place as 'that guy who did that thing at that wedding'. We all know that Deryck rolls deep, so I'd expect a full on ruckus between Sum 41 and Nickelback. Chairs might be knocked over, an elderly member of Kroeger's family might trip up in a panic and crab cakes might be flung as missiles — undiluted rock and roll.  It would be like The Graduate meets the 2003 Warped Tour. I'm not sure who'd win but someone will definitely be getting a fat lip. Haha, funny right?
First Dance song
It's was documented in a plethora of glossy mags that when Deryck Whibley and Avril Lavigne got married, the song that played for their first dance was the soft-rock heavyweight 'Iris' by the Goo Goo Dolls. Great choice, it really sums up how lame the pair were. However, Chad Kroeger is an even worse human being than D-rock so we can only speculate on what crusty tune their going awkwardly get down to. Here are my Top 3 picks:
Aerosmith – I Don't Wanna Miss A Thing.
[yframe url='http://www.youtube.com/watch?v=DpptCSF5tI8′]
Don't lie to yourself, this song is an absolute beaut.  When you're flicking through the music channels and it comes on VH1 you know you leave it for a while, gently mouthing the words until the song arrives at its souring majestic chorus where you belt it out until you come to and realise how much you're embarrassing yourself in a heavily residential area. Actually, screw them; I'm having it for my first dance — not that any woman would ever be stupid enough to agree to share a bathroom with me for eternity.
Hoobastank — The Reason
[yframe url='http://www.youtube.com/watch?v=fV4DiAyExN0′]
In 2003, Hoobastank decided to make those with the ability of hearing vomit all over themselves with this syrupy ballad. I think this song could really work well as Chad is definitely the reason for Avril "to start over new" and he's also the reason none of my friends wanna hang out with me as I play Nickelback (satirically) around them too much. There's always a chance this could be the track they'll play, but I cannot help but think the Kroegster would rather a heavier love song to get him going, he is the emperor of middle-of-the-road post-grunge after all.
Bryan Adams – Everything I Do, I Do For You

[yframe url='http://www.youtube.com/watch?v=qhHkELhoxHY'] 
Come on, what else was it gonna be? From one Canadian rock legend to another, this song surmises the pair's blooming romance and, at the same time, fulfils Chad's probable urge for an ascending chorus. If this is the song that will accompany their first dance then I can only assume that their marriage will be off to the finest of starts.
The Entirety Of Kerrang's Office Turns Up.
Let's face it, the wedding of Avril Lavigne and Chad Kroeger is the dream of the rock media group, Kerrang. Like a more sick and twisted group of conspiracy theorists waiting in a bunker for an alien invasion, they've probably prepared for this day for years.  However, I predict that even though they'd probably have pumped themselves up the whole day by listening to Sweet Child of Mine and Best of You (seriously Kerrang Radio, other songs do exist y'know) on a loop, the sheer spectacle of seeing their idols marrying will cause them to implode into a cheese-rock black hole, in doing so taking everyone nearby with it.
The Wedding Bands
And finally, perhaps the most important element of the day: the wedding band/s.  Just who will rock their reception? Here's a playlist of just who we expect will rock in the name of love on the big day:
Staind
[yframe url='http://www.youtube.com/watch?v=araU0fZj6oQ']
As much part of the noughties rock tapestry as any other greb-rock band. This one's for the slow dance segment of the night.  One can expect the lead singer of Puddle of Mudd to be in a corner when this is on, bearing his soul to a Playboy model who's trying to find her Tommy Lee/Kid Rock.
Creed
[yframe url='http://www.youtube.com/watch?v=O-fyNgHdmLI']
What is the wedding of two rockstars who made it big in the noughties without the ethereal sound of the Christian Rock outfit that is Creed? I'm sure lead singer Scott Stapp and Chad are best bros and used to party hard in the early days so I reckon they'll play the ceremony on the cheap. Plus, Creed just wouldn't be able to resist the pull of going to church; it's like crack to them.
Santana
[yframe url='http://www.youtube.com/watch?v=fQ9nQNx0KEs']
It will look as if the pair of managed to book a badass shredster to play their wedding but in actual fact, Chad will do this so he can run on stage and play this abomination with him.
Closing performance — Hero featuring Josie Scott
[yframe url='http://www.youtube.com/watch?v=TeM-ZMUTwGE']
This is obviously a song Chad wrote about this own ego, and rightly so, he saved rock. Before, it looked worryingly as if bands that mixed shit up were going to garner commercial acclaim but luckily Nickelback put a stop to that and repeatedly fired bland horseshit at us. God Bless that man. So yes, the live music part of the night will end with Chad atop the stage belting this treat of a song out with Josie Scott, the only man in America less attractive than him. A wise move, Kroeg, nicely played.
So with preparation for the nuptials in full swing, we will just have to wait to see what amazing surprises  will be in store for what is surely set to be the wedding of the decade. Move over Beyonce & Jay Z, do one Kanye and Kim because there's a new power couple in town, and they happen to frickin' rawk! (I threw up a little in my mouth when I wrote that) See ya!