This week marks 7 years to the day of possibly the most infamous and must-see round in battle rap history, courtesy of American rapper Caustic who was taking on the UK's Jefferson Price.
Featured Image VIA
This battle which took place in the UK's Don't Flop league has lived on in infamy owing to the third and final round in which Caustic gets unbelievably personal with his opponent and ends up wrecking his marriage and pretty much his entire life by exposing his infidelity not only to his girlfriend and the audience in attendance but also the whole world. I mean it's still being blogged about 7 years later FFS.
What makes it more interesting is that Jefferson Price was aware of Caustic's final verse before the battle and asked him to change it, which Caustic agreed to. Just one problem though – he went ahead with the verse anyway (should start 17:12):
Brutal stuff. I mean as bad as I feel for this Jefferson Price guy I just can't stop watching the look on his face as he realises that his entire world is about to be turned upside down. He's like that Mr Krabs meme in real life.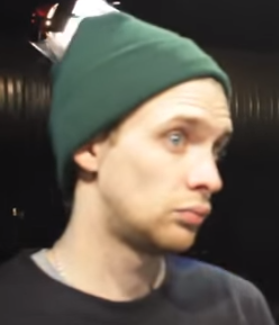 Apparently following this battle Jefferson Price quit battle rap, disconnected all social media and went completely off the grid. Which is fair enough really – there's no coming back from an annihilation like that. I wonder if his relationship survived it though?
To watch a battle rapper get smacked across the face for pointing a fake gun at his opponent, click HERE.