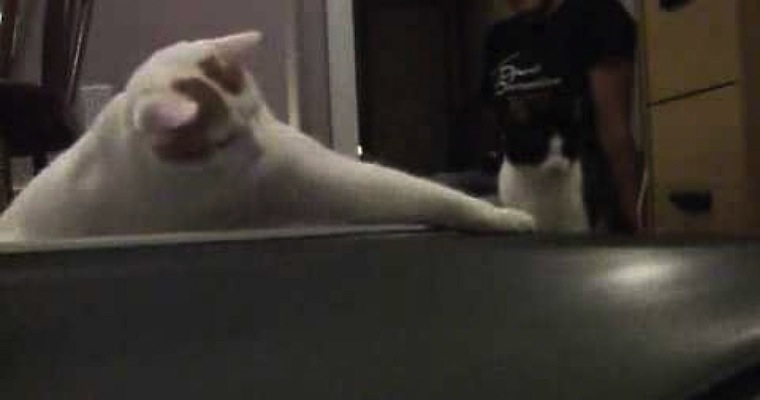 Cats and a treadmill, what could possibly be so funny about that? Well cats are generally known to make pretty much anything funny, and a treadmill is usually associated with loads of funny fail videos, so surely the two coming together would be a recipe for a funny ass video? Correct. Although, the video's probably not funny in the way you'd imagine it to be.
Upon imagining a video of a cat and a treadmill, my first thought are that of the cat trying to walk on the treadmill and failing miserably. This would of course, be rather funny, but what these two cats actually do is kinda weird but will make you laugh way more because it's so strange and random cat behaviour.
These cats don't really have a clue what's going on with this treadmill, as you probably wouldn't if you were a cat. What the hell is this thing? Why is the belt moving? What is this sorcery? So the two cats decide the logical thing to do would be to start hitting the treadmill. Not just normal cats playing with you and pawing you hitting, proper full whack slamming their paws on the treadmill hitting, presumably trying to make the damn thing stop. Cat humour at its best.
Check it:
[yframe url='http://www.youtube.com/watch?v=Hgm9ojPBhkw']

☛ Here's A Bunch More Cat Related Stuff:
Cats + GoPRO Camera = Totally Awesome
Here's A Bunch Of Instagram Pictures Of Cats Smoking Weed