If someone put a bagel on your head while you were on the train, how would you react? I'm not sure you've got much choice but to just roll with it to be honest. If a bunch of drunk idiots see you playing along, they'll probably move on to their next victim before long.
Featured Image VIA
Well, this passenger on board a London's King's Cross service chose a different approach when a woman put a bagel on his head. He sat quietly as the anger gradually built up within him, eventually exploding into a fireball of rage.
In the end, the police got involved:
https://www.youtube.com/watch?v=MWda8M7SFTo
And that's what happens when you get wound up over a bagel on your head – it just fuels the flames and makes the situation 100x worse. People will just put more bagels on your head and start singing "he's got a bagel on his head" as they watch you turn into a complete psychopath: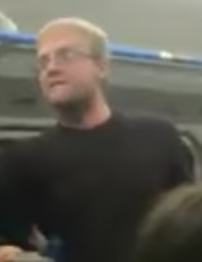 Maybe just eat the bagel next time? I'm sure that's what these bagel-obsessed Japanese dudes would have done.