If you're struggling to get a reservation for Valentine's Day and the way to your significant other's heart is through a Big Daddy Box Meal, then maybe you could try the table service menu at your local KFC.
Well, actually you can't unless your local KFC is the Fishergate branch in Preston, Lancashire as that's where they're trialling the idea of a candle lit Valentine's Day meal. It comes with linen napkins, flowers, a silver candelabra, table service (with your bucket served on a little raised stand) and even your very own soft drink sommelier to determine the best accompanying beverage with your meal. It basically sounds like it's completely taking the piss and can't be true, but somehow actually does seem to be true?
Images VIA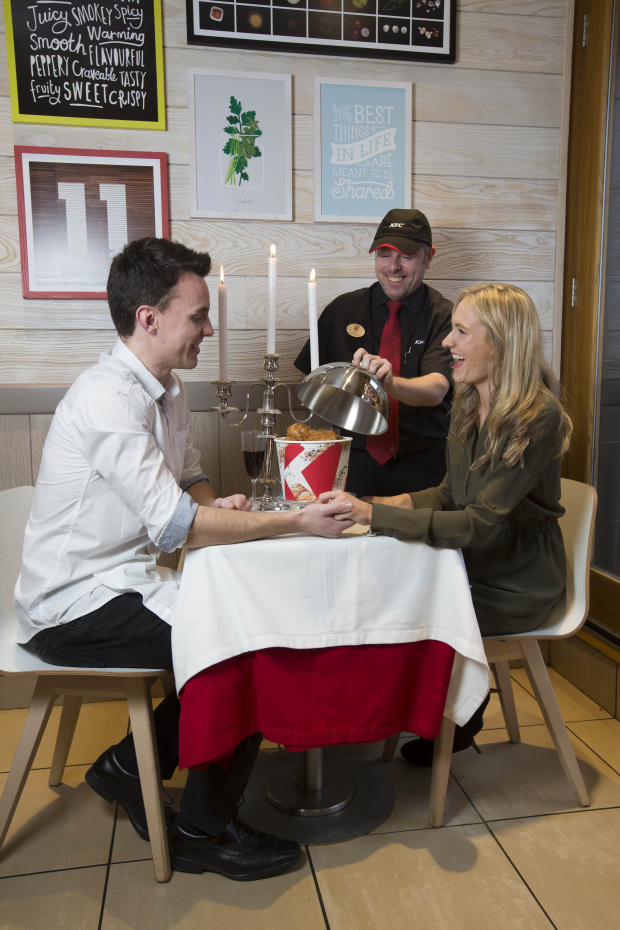 The Fishergate location of the trial might be a surprise for some readers, but it actually makes sense. It's actually the first ever KFC restaurant in the UK and has also been dubbed Britain's most romantic restaurant after a couple called Bob and Pat Fogg had their first date there over a bucket of chicken and ended up being married for over 50 years. I'm not really sure if that's criteria for that award, but whatever.
I really hope this is true so if anyone lives near Fishergate and is popping down, please tweet us your pictures and have a KFC on us. If it goes well this year then it will be rocking out Nationwide and I will know exactly what I'll be doing for Valentine's Day. If I have a girlfriend by then.
Alternatively, if you're still looking for a Valentine's gift then check out what these porn stars had to say and their advice on the subject.