It's well known that China has a massive pollution problem – check out these pictures if you don't believe us – but I'm not sure if the solution is to import loads of bottled air from Canada over there.
Nevertheless, one Canadian entrepreneur thought that it might and he founded the company Vitality Air to sell bottled air from a Canadian ski resort to China. He also says that business is booming.
Moses Lam explains that he got the idea for the business when he decided to sell a bag of zip locked air on eBay and it went for 99 cents. He now drives four hours from his home in Edmonton to Banff every couple of weeks and spends ten hours there bottling air:
It's time consuming because every one of these bottles is hand bottled.

We're dealing with fresh air, we want it to be fresh and we don't want to run it through machines which are oiled and greased.

In North America, we take our fresh air for granted but in China the situation is very different.
Featured Image VIA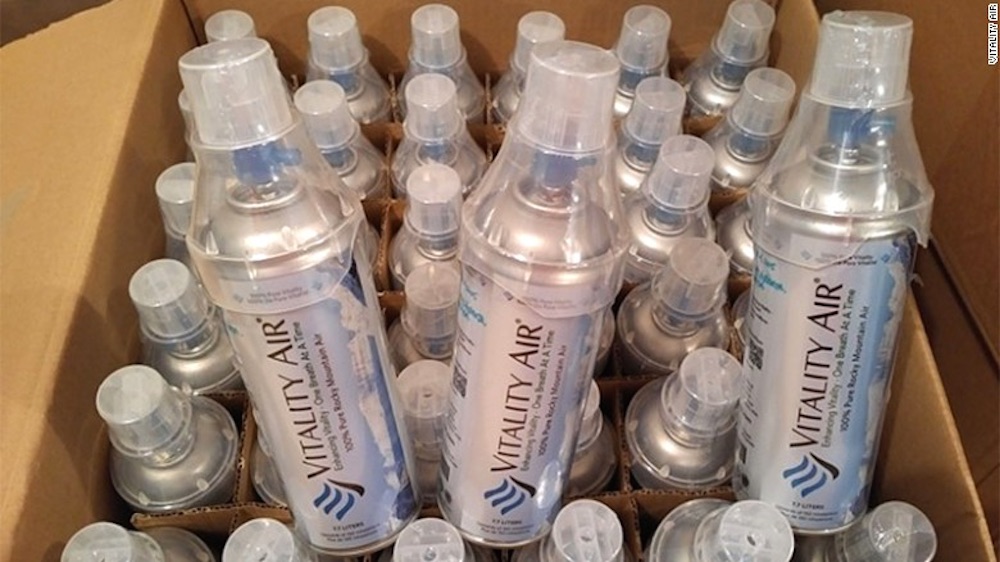 Image VIA
Harrison Wang – the director of China operations – revealed that the first batch of 500 canisters went on sale in the country a couple of weeks ago and immediately sold out. Now, they're taking pre-orders for the next shipment and are close to 1000.
Amazingly, the canisters cost £10-16 depending on their size. I guess that's how much people value fresh air these days over in China. Wallace Leung, a professor at Hong Kong Polytechnic University, doesn't think this is the solution to their pollution problem though:
We need to filter out the particles, the invisible killers, from the air.

One bottle of air wouldn't help. I would be very cautious.
Well no, I wouldn't have thought it would help the overall situation – surely nobody would actually think that? – but I suppose it might smell nice and give Chinese people a taste of what they're missing. And you can plug it into your face mask like the top image and spend your whole day breathing it in and avoiding the smog of the big city.
Fuck spending a tenner on it though and fuck living my life like that, I would just move away ASAP. And are things really THAT bad in China – is nobody remembering the five key benefits of their pollution problem that they recently highlighted?