As if being raped by a human wasn't traumatic enough for this dog named Olive, then she's currently facing being put down as a judge issued a destruction order after she was classified as a stray pit-bull type dog.
Images VIA 
Olive was found on the streets of Hillingdon in West London with a prolapsed uterus and her intestines hanging out – injuries that were consistent with being raped by a human. She was microchipped but her owner explained that she had sold her on as she no longer wanted the trouble of looking after a dog. Not sure why the authorities couldn't have tracked down the person she sold her to, but oh well.
Anyway, it was later deemed that she was a pit bull type dog and the order for her destruction was issued by a magistrate back in 2017 and since then campaigners have been trying to save her. Here's what dog trainer Alexis Atchinson had to say about it: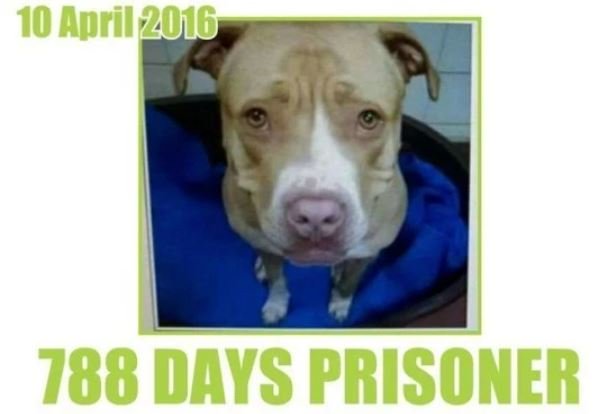 We want her to live a normal life like any other dog. This is just ridiculous.

A loving home awaits her but she's not allowed to go to that loving home. She's a great dog, a perfect dog. She's been held prisoner for over two years.

Olive is the nation's dog. She's not just one person's dog. She is loved by so many.

She's got an army behind her, there are so many people fighting for her.
I'm not sure why the courts/judges/whoever are so intent on destroying Olive and won't just let one of these campaigners adopt her, but after two years and about £16,000 in legal fees the case is set to go to the High Court where it's believed that Olive's destruction will be averted. If you want to help out the campaign or get more info, then click here.
So weird that they would waste so much money and time on an issue that can literally be sorted out in about five minutes, but I guess that's the government for you. See Brexit too.
For more of the same, check out this guy accidentally sending a picture of himself having sex with a dog to his gf. Whoops.