Supermodel Bella Hadid is a heterosexual woman which means she's not allowed to kiss other women, and that includes robot women in Calvin Klein ads.
Featured Image VIA
That's the opinion of some annoyed people on the internet anyway, after Bella appeared in this weird advert for Calvin Klein. In the spot Bella kisses Lil Miquela aka Miquela Sousa aka an Instagram robot that has 1.5 million followers. It's not even a real person – it's a CGI robot:
I am here. That is my truth. #MYTRUTH #MYCALVINS@bellahadid @CalvinKlein pic.twitter.com/gjMyHHXjHB

— Miquela (@lilmiquela) May 16, 2019
So even though Bella was literally kissing a robot, the fact she is straight and the robot appears to be female led to a backlash:
a corporate brand will show lil miquela and bella hadid making out but not an actual gay couple https://t.co/qonqi099nZ

— lily (@hemsflower) May 16, 2019
who is gonna tell Calvin Klein you're supposed to wait until June for your tone-deaf queer-bait ad campaigns!! lil miquela and bella hadid out here smooching two weeks too early!!!

— Madison Malone Kircher (@4evrmalone) May 16, 2019
Full offense but the Calvin Klein video of gigi hadid kissing lil Miquela, a VIRTUAL INFLUENCER, makes me straight, homophobic. And homicidal all at once

— arabelle sicardi (@arabellesicardi) May 16, 2019
There are plenty of real LGBTQ Models that could have been used. #noexcuse

— Hillary Halsten (@hills02) May 17, 2019
Which forced Calvin Klein to apologise for the whole sorry mess:
Here at CALVIN KLEIN, we welcome all types of constructive feedback from our community. We see your comments and we appreciate them. We'd like to offer our thoughts in response to comments on our campaign video featuring Bella Hadid and Lil Miquela. pic.twitter.com/OIcIekyR9K

— CALVIN KLEIN (@CalvinKlein) May 17, 2019
Putting out an advert/product that doesn't piss at least somebody off is one of the biggest challenges faced by companies these days. But looks like there was enough backlash here that CK had to come out and say sorry guys, no offence intended. It does seem a bit of an OTT reaction though because Bella isn't kissing a woman, she's kissing a robot. She isn't being 'gay', she's being weird.
P.S. It's also fun trying to figure out who is the robot: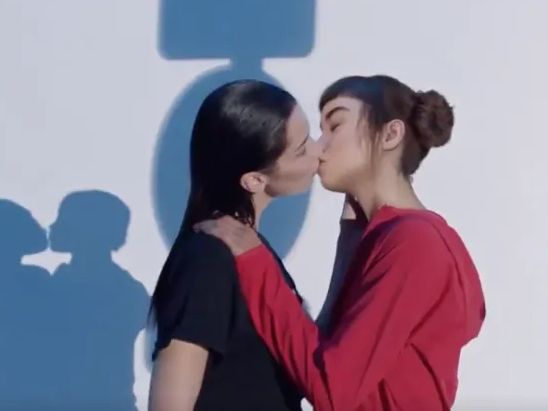 So yeah I understand if people took issue with what a dumb advert it is to begin with, but I don't see the problem with a straight woman kissing a CGI. Still, at least we got to read CK's apology and learn the word 'queerbaiting', so silver linings and all that.
To find out the biggest worries men have as we approach a future of functional sex robots, click HERE.