It's always so dumb when people campaign on the internet to get the Prime Minister or another public figure like that arrested because nothing ever happens no matter how hard they try, but this is quite an entertaining story about Bois Johnson's latest leaked messages so let's just roll with it for this story.
Featured Image VIA
The leaks once again come courtesy of former chief advisor Dominic Cummings and concern a WhatsApp conversation that took place between the two of them on October 15th of last year. Cummings has repeatedly accused Johnson of not acting quick enough to impose the second lockdown last year and these 'explosive' leaks pretty much confirm that with Boris saying that the virus only affects old people and he doesn't really care about them: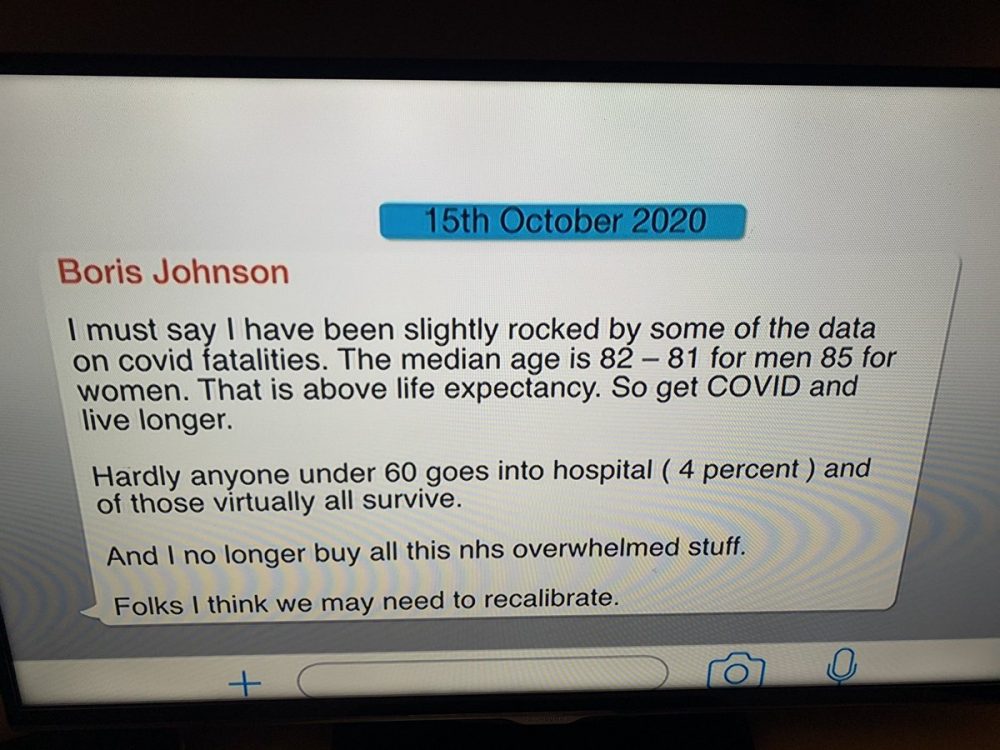 Yikes. Although I don't think anyone in their right mind would really be that surprised that the guy said something like that as his response throughout the whole pandemic has been pretty callous and downright awful. #ArrestBorisJohnson is now trending on Twitter, but like I said I doubt that it's actually going to achieve anything ever.
How many lies are you going to swallow before you want to #ArrestBorisJohnson ?

— NoTest.NoMask.NoJab #Lockdownkills (@Veggietating) July 20, 2021
#ArrestBorisJohnson & all MPs, aids, advisors & media people who have willfully allowed the virus to spread and mutate, killing 100's of 1000's+ causing long term harm to a million+ all while carrying out vast, astronomical corruption.

Misinformation & lies kill, make them pay!

— Marti Bartfast 🟨🟥 #BLM #JoinAUnion (@MartiBartfast_) July 20, 2021
Spot on. #ArrestBorisJohnson https://t.co/mXspOB6je9

— Carol Hulme (@carol_hulme) July 20, 2021
Anybody who is genuinely shocked at this message from #BorisJohnson, with all due respect, f*** you!!!
Next time you vote for a PM, research the person. Don't treat politics like you do sport, and turn to columnists in your favourite shite newspaper.#ArrestBorisJohnson pic.twitter.com/x95YgvCxhp

— ❄Steel Snowflake❄💙🟨🟥 (@Groot66) July 20, 2021
Oh you remember that time when the tories cause of policies let 125,000 (estimated) deaths happen among the disabled well do you reckon that would change with anyone we were just the start if you voted tory you have blood on your hands! #ArrestBorisJohnson #ToriesMustGo https://t.co/hFYdkReHd5

— The Agoraphobic Gamer (@delpoi) July 20, 2021
So the man put in charge of the country doesn't seem to care about the over 80's dying, pretty sure the rest of us do. This is democide. To top it off the NHS is being shafted by this prick and his band of bafoons #ArrestBorisJohnson

— Aaron Faulkner (@AaronFa87544559) July 20, 2021
Yeah again, I don't think anything's going to happen because of that but it's kinda funny to see it trending. Fact is most people probably will have forgotten by the time the next election rolls around so he'll probably get another go at it and screw everything up even further. Awesome.
For more of the same, check out when Boris Johnson won an award for talking utter nonsense. Of course he did.