Boris Johnson is the leader of this country – at least for the next week – but that doesn't mean that he ever talks clearly or makes any sense with any of his comments and someone has finally decided to give this the credit that it deserves.
Featured Image VIA 
Confused.com have been handing out the Plain English Awards for the the past 40 years apparently and have decided that this year Boris Johnson is not only going to win the 'Foot In Mouth' award this year – his third time of doing so – but also a Lifetime Achievement award for the ridiculous bullshit that has come out of his mouth for most of his life.
Here's what the Plain English Campaign said: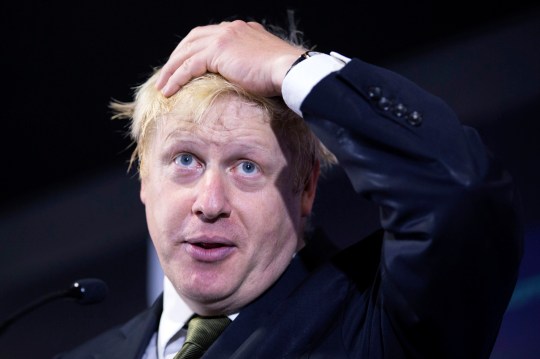 There was extremely creditable competition from the other shortlisted candidates, Russell Brand and Donald Trump.

But just as Brexit apparently means Brexit, Boris is Boris, and that means regular and reliable gibberish.

If he isn't crassly dismissing serious issues as a waste of money he's being dishonest or at least incomprehensible about…pretty much everything.

Routine, flat-out lies are Boris's bread and butter – but it's the gaffes we're especially interested in.

And on that score Boris never disappoints.

So it makes perfect sense to honour his routine clangers with this gold-standard gibberish gong.
I mean they've got a point there haven't they? The guy does spout a lot of bullshit, but it looks like it's probably going to be enough to keep him in power come next Thursday. Five more years of this crap hey!
For more of the same, check out Boris Johnson getting called out by Andrew Neil for refusing to be interviewed by him. Loser.