Everyone knows that chicken nuggets are some of the best foods out there, so it's no surprise that people are out there trying to develop even better versions of them.
Featured Image VIA 
Burger King are the latest guys to throw their hat in on this with their new chicken fries looking thoroughly delicious. The only bad news is that they're an exclusive off Just Eat, which means you're gonna have to order a Burger King to your house to scoff them down and won't be able to pick them up when you're grabbing a Whopper at the train station or whatever. The prices sound fairly reasonable though – 6 pieces for £2.99 or £4.99 with a drink and fries and 9 pieces for £3.69 or £5.69 for the meal.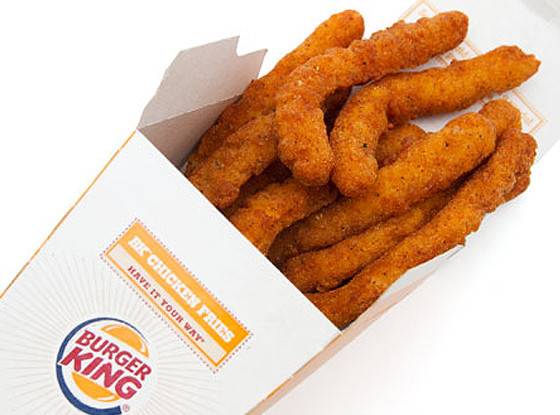 Hee's what the official burger King statement said about them:
A fan favourite world-wide, Chicken Fries are tender chicken strips in the shape of giant French fries, which make them perfectly shaped for dipping in whatever sauce takes your fancy.

Made with 100% chicken breast, coated in a light crispy breading and seasoned with herbs and spices – what's not to love?

The delicious Chicken Fries will be served in Burger King's iconic and highly Instagrammable Chicken Fries Face boxes.

The sought-after boxes come with various colourful stickers so you can get creative while you chow down and eat Chicken Fries, your way. Give your Chicken Fries Face a tasty new look with glasses, a snazzy bow tie, a red lip pout or some eyebrows on fleek!
Wow, if I wasn't tempted to get them before reading that I definitely am now thanks to the addition of that Chicken Fries Face Box. Sounds like there are hours of fun to be had with that. Still annoyed about it being a Just Eat exclusive though – that doesn't change.
For more of the same, check out when Burger King turned onion rings into chicken fry rings. Legendary.