Big day in the competitive gaming/e-sports world as 16-year-old gamer Kyle "Bugha" Giersdorf has won the first ever Fortnite world cup, banking a cool $3 million prize money.
Featured Image VIA
As reported by Kotaku, Bugha pretty much dominated all the other professional Fortnite players, coming in with 59 points, well ahead of second-place finisher Harrison "Psalm" Chang, who had 33 points.
THIS MAN JUST WON THREE MILLION DOLLARS.@BUGHA #FORTNITEWORLDCUP pic.twitter.com/LB43UGGV9h

— Sentinels (@Sentinels) July 28, 2019
The $3 million prize is the largest amount ever awarded for an e-sports tournament.
He's not the only one who made bank though, all top 100 players will be happy with their lot: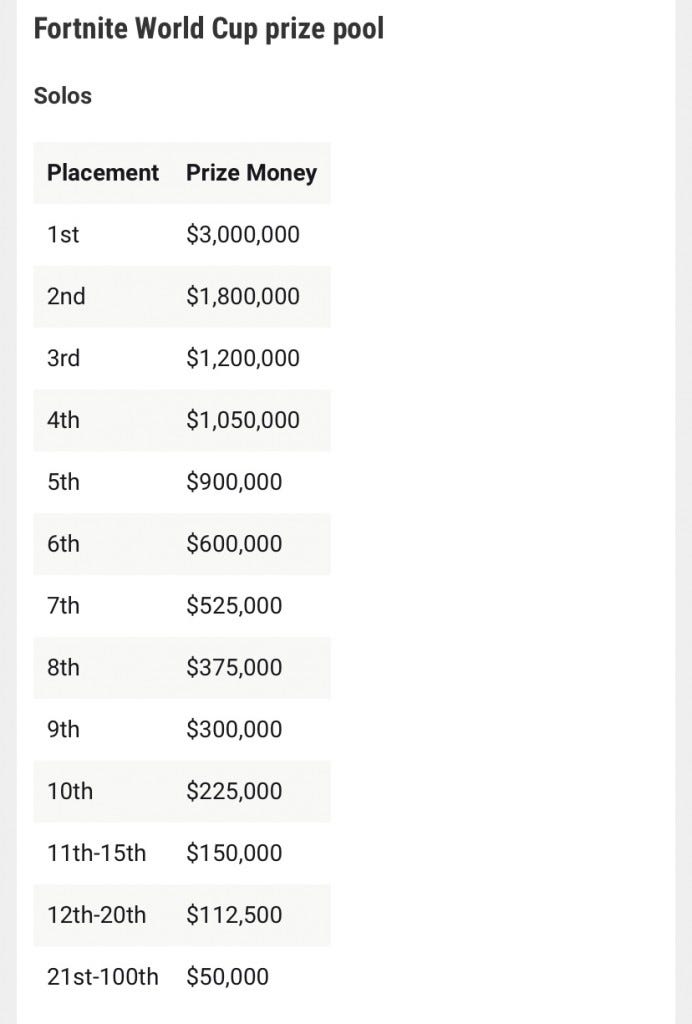 21st-100th made $50,000 each – wow. Sounds easy but remember we're talking about the top 100 Fortnite players in the world (out of 250 million+) who had their eyes glued to the screen playing this game every day in preparation for this tournament.
Bugha's mate Colin Bradley knew his buddy would crush it:
He's one of the smartest players. He knows when to attack, when not to attack, to stay high ground. He's a strategic player.
This being the gaming world, some haters immediately hacked into Bugha's social media accounts after his $3 million victory.
Bugha's phone and social media accounts have been compromised. We are aware of the situation and are working to regain control.

– Sentinels Management

— SEN Bugha ✈️ NY (@bugha) July 29, 2019
Oh dear. Still at least it wasn't his bank account eh?
What would you do if you won $3 million at 16? Or maybe I should be asking, what would you do if your 16-year-old kid won $3 million playing a damn video game? Bugha's dad was absolutely loving it:
The dance you make when your son just won $3 million playing a video game @bugha #FortniteWorldCup pic.twitter.com/vVnQ1UvZAe

— Barstool Gametime (@StoolGametime) July 28, 2019
Making millions off playing video games – what a life this kid is living.
Might have even impressed enough to bag himself a date with gamer girls dinglederper and Belle Delphine (NSFW)?