Bit of a cock-up by whoever runs the Brunel University Twitter account this week, after it appeared to endorse a student's threat to go on a shooting spree on campus.
Featured Image VIA
Non-binary trans woman and PhD student Andrea Cachia sent out the following Tweet under the @Transalorian Twitter handle, in which they threatened to attack 'TERFS' – Trans Exclusionary Radical Feminists, before tagging Brunel Uni and asking them to chime in also…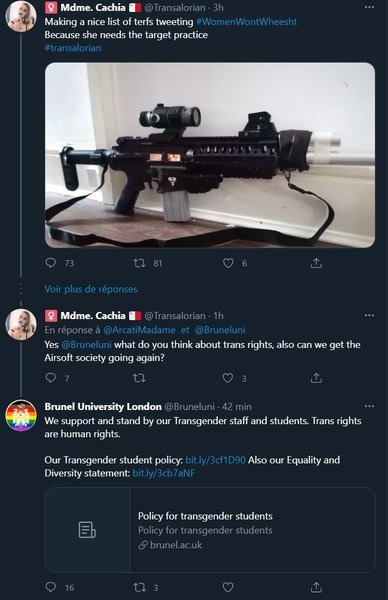 Welp, as you can see, Brunel uni gave a supportive, albeit generic, response in which they didn't even address the airsoft gun part but nonetheless seemed unperturbed by the threats of violence against anyone questioning any aspect of trans ideology.
It wasn't long before Brunel uni deleted their Tweet…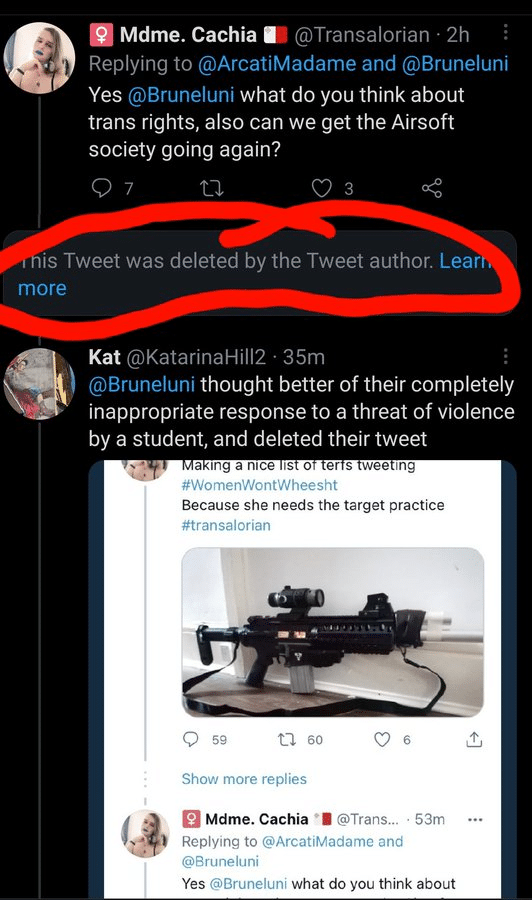 Here's a couple more dodgy Tweets from Mdme. Cachia, again threatening violence…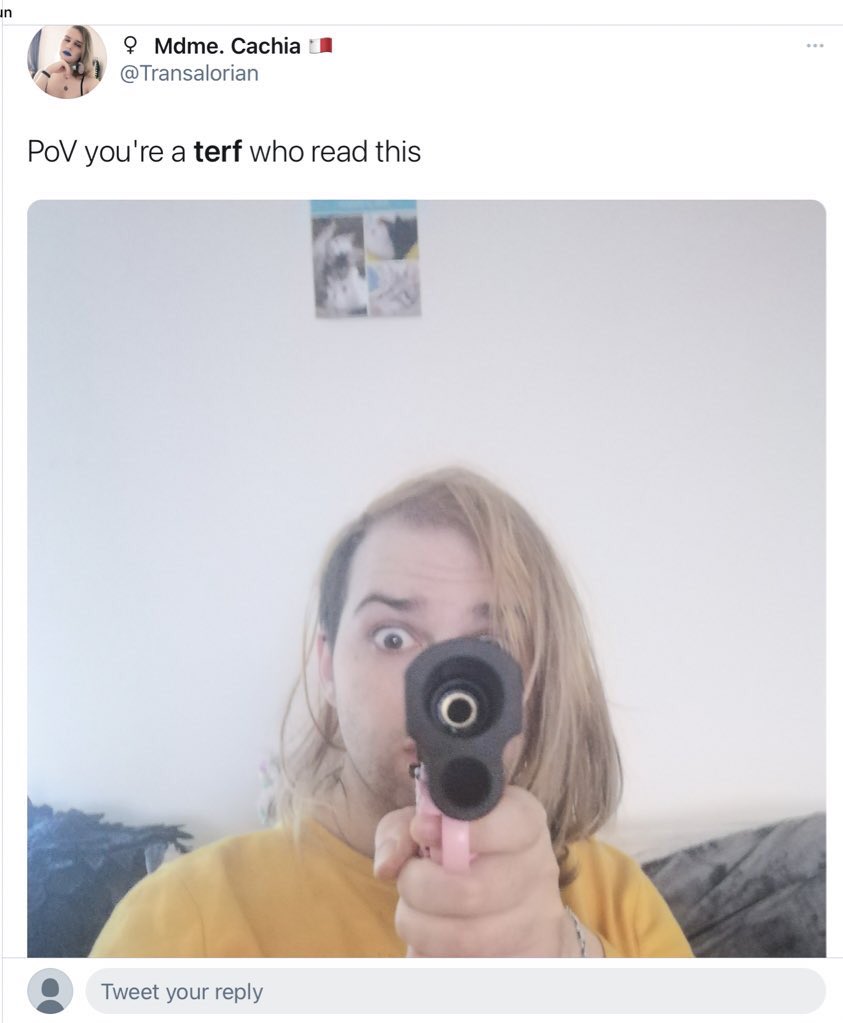 The backlash against Brunel uni came in thick and fast, prompting this statement…
We have referred the matter to the police and the outcome of their investigation will determine our next steps. [2/2]

— Brunel University London (@Bruneluni) June 3, 2021
Here's the sort of response they're getting…
It's not "alleged", we we have seen the screenshots. And the ones of you endorsing it. I hope young women are aware of this hostile environment at your university and stay well clear.

— Alice-Jael Harper ♀️✊🔴🕸️🏴󠁧󠁢󠁷󠁬󠁳󠁿 (@AliceHarperGC) June 3, 2021
Why would any female want to attend after this? Any parent be comfortable with their daughter applying or attending here?

— @neveryoumind (@neveryoumindok) June 3, 2021
The person this morning, in charge of your Twitter account, needs to at the very least be given extra training, so they understand that threats to kill women, is in fact illegal and a matter for the police.

— Eliza (@Eliza_Cuppa) June 3, 2021
Your initial response stands in stark contrast to your statement here, you really need to have a hard look at how you are managing social media & why your initial response was so incredibly disturbed. There's deep misogynistic issues that need to be examined & addressed ASAP.

— Oldspeaker1 📢 (@oldspeaker1) June 3, 2021
You need to take swift disciplinary action against this violent individual. And your Initial tweet supporting them was disgraceful.

— Valkyrie (@Recklessgoddess) June 3, 2021
Well it's good that Brunel have rightly referred this matter to the police and appear to be taking it seriously. I can't help but think that maybe, just maybe, the person in charge of their social media account didn't read the first part of the original Tweet and was rather just responding to the second Tweet they were tagged in? Because that would explain the perceived support on their part. I mean surely whoever they've got running that account can't be this stupid, can they?
In any case, let's hope Andrea Cachia can come out of this understanding that there is a debate to be had on trans issues that doesn't involve threatening to shoot everyone who disagrees with you to death. Doesn't really do any favours to your side of the argument really.
For the dude who sent a dick pic to a trans woman, only to receive the shock of his life when she sent back a pic of her own (bigger) dick, click HERE. Classic.