This video went up at WorldStarHipHop the other day and while a lot of the stuff they post is just senseless violence for the sake of it, there is the added context here of two Irish brothers teaching their stepdad a lesson for beating up their mum.
Featured Image VIA
It really is a hell of a beating – check it out:
I seriously doubt he'll be putting his hands on their mum again after that, don't you?
Shout out to the cameraman as well for turning the camera away briefly at about 0:15 – it looks like one of the brothers picked up a brick and bashed his stepdad over the head with it at that moment: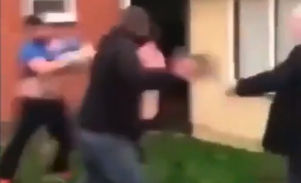 Cameraman was like 'nope, didn't see that, just a good old-fashioned fight with hands and feet only'.
For the man who bit his stepdad's ear off following an argument about Andy Murray, click HERE.