I still can't get why people seem so determined not to wear masks and seem to be willing to go to extreme measures in order not to wear one, but it's still happening and we're still writing about it so here we are.
Images VIA 
Today it's the turn of some British protesters to look absolutely contemptible after they were allowed to board a plane flying back from Berlin without wearing their masks after a tense standoff with airport security. To make matters even more annoying, they had actually been visiting Berlin to attend a meeting with fellow sceptics in the German capital who were arguing that COVID-19 was a scam that didn't actually exist. Sounds like a fun trip.
One member of the group named Charisse Burchett said on Twitter that their 'victory' was their last protest on German soil, but then also claimed that all ten of the Brits on the flight had medical exemptions not to wear masks. She later took to Facebook to clarify her comments: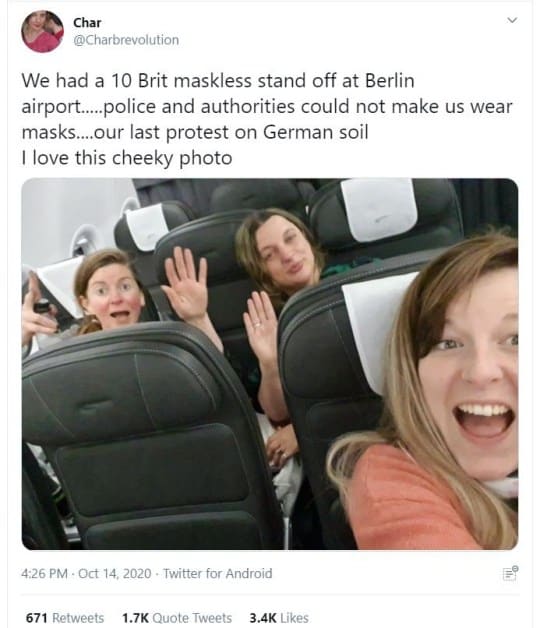 We had been through a stressful time at the airport. One friend had trouble with her booking, then we were stopped by police and asked why we weren't wearing masks in the terminal.

They did not accept our medical exemptions so I walked away. My friend was then singled out and searched because she wasn't wearing a mask.

In the departure lounge gate we saw some other Brits without masks and we sat with them. A chap did all the talking and he was very brave. He stood his ground and inspired us all to be brave as then we had lots of police and officials all stood over us intimidating us.

Calls were made and a lovely chap from our airline came out and checked our exemptions and said it was all fine.
That doesn't really sound like there was any trouble at all, does it? However, this account differs greatly to that of another passenger that was on their flight who said the following:
They were universally condemned by all other passengers in the airport.

I talked to a very nice young man who genuinely had a medical exemption but felt "it's because of people like that I just wear a mask and try and get on with it".

The German police and security acted professionally at all times trying to find out why they wouldn't wear their masks.

The police only arrived when they were getting irate with the airport staff who wanted to see their doctors note for the "medical exemption" which is the rule in Germany.

I'm not sure why they were eventually allowed on the plane.
Yeah, I don't really think that either of their accounts are telling the full story there – I imagine it's somewhere in between the two – but I find it crazy that these people are so passionate about not wearing masks that they're willing to fly to Germany to attend some weird quacko conference about it. That's a bit much. Would be interesting to find out why they were eventually let on the plane though.
Also find it bizarre that if these guys all have medical exemptions and don't need to wear masks that they feel so strongly about everyone else's right not to wear one that they're acting up like this. Of course, they probably don't have genuine medical exemptions, but even so if they've managed to blag one it still strikes me as a bit over virtuous that they're out there protesting for everyone else. Maybe I'm just of a different time though.
For more of the same, check out the most insane anti masker meltdown from this Walmart over in Alaska. Crazy.